Coding for Kids: Python: Learn to Code with 50 Awesome Games and Activities (Paperback)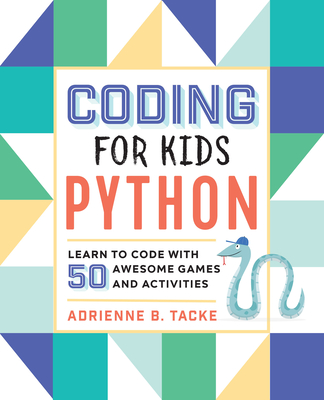 $19.99

In Our Warehouse - Expected arrival in 2-5 days
Description
---
Games and activities that teach kids ages 10+ to code with Python
Learning to code isn't as hard as it sounds—you just have to get started!
Coding for Kids: Python
starts kids off right with 50 fun, interactive activities that teach them the basics of the Python programming language. From learning the essential building blocks of programming to creating their very own games, kids will progress through unique lessons packed with helpful examples—and a little silliness!
Kids will follow along by starting to code (and debug their code) step by step, seeing the results of their coding in real time. Activities at the end of each chapter help test their new knowledge by combining multiple concepts. For young programmers who really want to show off their creativity, there are extra tricky challenges to tackle after each chapter. All kids need to get started is a computer and this book.
This beginner's guide to Python for kids includes:
50 Innovative exercises—Coding concepts come to life with game-based exercises for creating code blocks, drawing pictures using a prewritten module, and more.
Easy-to-follow guidance—New coders will be supported by thorough instructions, sample code, and explanations of new programming terms.
Engaging visual lessons—Colorful illustrations and screenshots for reference help capture kids' interest and keep lessons clear and simple.
Encourage kids to think independently and have fun learning an amazing new skill with this coding book for kids.
About the Author
---
ADRIENNE TACKE is a software engineer, writer, and STEM education advocate. As a Code. org volunteer in Las Vegas, she regularly speaks to students of all ages about the power of code and encourages young women and girls to explore a career in software engineering. She is also a contributing writer for online tech publications such as HackerNoon and CodeBurst. Coding for Kids: Python is her first book (but certainly not the last!).
Praise For…
---
"Python is a really powerful programming language with very simple and human-like syntax. Thanks to these advantages and the interactive exercises and games in Coding for Kids: Python, everyone—regardless of age—will be able to understand the power of the language and start using it immediately. I really can't wait to use some of these examples in our school!"—Marcin Zajkowski, Co-owner of WOW School

"We will use Coding For Kids: Python as our main reference in the free python workshops that we organize for kids. From installation to having a full running python program, it has easy-to-follow instructions as well as colorful graphics and fun-filled activities. Kids will definitely love programming with this book"—Cleo Credo, Software Engineer and Community Builder of PizzaPy Cebu

"Coding for Kids: Python is a very visual, well-presented introduction to programming that I suspect would not only please young learners but older learners who might be turned off by the less-friendly-looking offerings next to it on the bookstore shelf…It's informative, engaging and well-organized."—Peter F.