Slater's Gold: A Christian Western Novel (Paperback)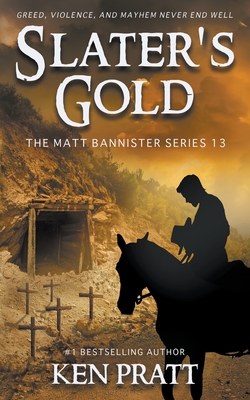 $19.99
Email or call for price.
Description
---
Greed, violence, and mayhem never end well. But that's what happens when all that you have is never enough...
When the Slater's strike gold on someone else's claim, they'll stop at nothing to get it all for themselves. Murder, violence, and unspeakable deception aren't enough to keep Mr. Slater's rampage and thirst for money at bay.
But what will happen when Matt Bannister is called into town on a mission to quell the miners' strike and a feud brewing between neighbors?
Corruption abounds in the Old West, and- here in Branson-it's up to Matt to stop not only a greedy miner, but also a vicious gang of outlaws who started their own private police force in order for their criminal deeds to appear legit.
But when Matt is accused of a most heinous crime, one he couldn't have committed, and arrests a man for murder only to see him released later, Matt knows that this job might keep him from making it to the alter and his beloved Christine.
Join US Marshal Matt Bannister as he stands up for what's right in a world that rarely does.