On Freedom Road: Bicycle Explorations and Reckonings on the Underground Railroad (Hardcover)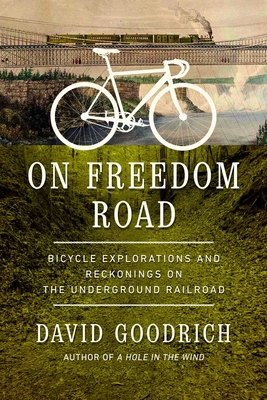 $27.95

In Our Warehouse - Expected arrival in 2-5 days
Description
---
A thoughtful and illuminating bicycle journey along the Underground Railroad by a climate scientist seeking to engage with American history.

The traces of the Underground Railroad hide in plain sight: a great church in Philadelphia; a humble old house backing up to the New Jersey Turnpike; an industrial outbuilding in Ohio. Over the course of four years, David Goodrich rode his bicycle 3,000 miles east of the Mississippi to travel the routes of the Underground Railroad and delve into the history and stories in the places where they happened.

He followed the most famous of conductors, Harriet Tubman, from where she was enslaved in Maryland, on the eastern shore, all the way to her family sanctuary at a tiny chapel in Ontario, Canada. Travelling South, he rode from New Orleans, where the enslaved were bought and sold, through Mississippi and the heart of the Delta Blues. As we pedal along with him, Goodrich brings us to the Borderland along the Ohio River, a kind of no-mans-land between North and South in the years before the Civil War. Here, slave hunters roamed both banks of the river, trying to catch people as they fled for freedom. We travel to Oberlin, Ohio, a town that staunchly defended freedom seekers, embodied in the life of Lewis Leary, who was lost in the fires of Harpers Ferry, but his spirit was reborn in the Harlem Renaissance.

On Freedom Road enables us to see familiar places—New York and Philadelphia, New Orleans and Buffalo—in a very different light: from the vantage point of desperate people seeking to outrun the reach of slavery. Join in this journey to find the heroes and stories, both known and hidden, of the Underground Railroad.
About the Author
---
David Goodrich is the former head of the National Oceanic and Atmospheric Administration's Climate Observations and Monitoring Program, and served as the Director of the UN Global Climate Observing System in Geneva, Switzerland. He is the author of A Hole in the Wind, which was a "One City, One Book" pick for San Francisco, and A Voyage Across an Ancient Ocean, also available from Pegasus Books. He lives in Rockville, Maryland.
Praise For…
---
"On Freedom Road is a vital and accessible text for readers to understand the conditions enslaved people faced when attempting escape."
— Booklist, starred review

"Climate scientist Goodrich documents his bike rides along 'routes of the Underground Railroad' in this illuminating blend of history and travelogue....Throughout, Goodrich reveals how slavery is remembered and misremembered in America, and makes a convincing case that 'national trauma, like a wound, tends to heal when it's exposed to air."' It's a harrowing yet inspirational ride."


— Publishers Weekly

"The nimbleness of the transportation mode helps Goodrich share the smallest, bravest, most impactfully-historic tales of danger, determination, and daring."
— Terri Schlichenmeyer

"A heartfelt reminder of the importance of remembering our past in order to continue to learn from it."
— Kirkus Reviews

Praise for David Goodrich:

"A detail-rich chronicle of the half-dozen epic bike rides Goodrich has undertaken since 2000, including a 2011 cross-country trip. Goodrich is a good enough reporter and a sufficiently gifted stylist to make the miles fly by."
— Washington Post

"This cyclist's view of how things really are effectively cuts across head-butting arguments about global warming. A compelling narrative enlivened as much by the author's encounters on the road as by his skillful unfolding of scientific knowledge."

— Kirkus Reviews

"At the end of a high-level career in climate science, David Goodrich cycled from Delaware to Oregon looking for a "hole in the wind" ? a human future in the unrelenting march of climate change. Ultimately, he sees humanity's capacity for economic transformation and reform as up to the job."

— Nature

"The text rolls along as easily as his heavily-laden bike must have on those welcome downhill stretches. For a summer read that engages, entertains, and also educates, I can't recommend anything better than A Hole in the Wind."

— The Daily Local