Darkly Dickinson (Paperback)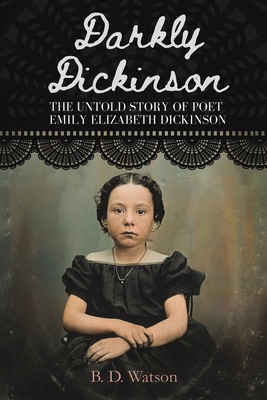 $20.95
Email or call for price.
Description
---
Some called her "Crazy Beth", others called her the "Myth of Amherst," and some called her simply a gifted genius. She was stunning and intelligent and was ahead of her time when it came to advocating change for society regarding women's rights and minorities' equality. Who is the girl behind the poetry? Why were so many of Emily Dickinson's 1,800+ poems about death? What was the true meaning behind her cryptic poems? Who were the Master poems written to?Join B. D. Watson as she welcomes her debut novel, Darkly Dickinson: The Untold Story of Poet Emily Elizabeth Dickinson, revealing all the mysteries that wrap around the most loved and read literary genius of all time. Darkly Dickinson will walk you through the life of poet Emily Dickinson from her childhood abuse to her teenage years of being bullied by her teachers and classmates, and then to her college years at Mount Holyoke when she was grabbed out of her bed to be a part of sinister acts performed by the girls who taught her how to dabble in witchcraft, and finally to her adult years with her cat-and-mouse chases with men. Darkly Dickinson will take you through the heartbreaking deaths of all her loved ones including her romantic interests, and finally you will be led to Dickinson's mental breakdown that led to her isolation from society for over 30 years.Read Darkly Dickinson and you decide for yourself, was 'it' fact or fiction? Were her imaginary friends demons or simply a figment of her imagination? Be prepared for an immense amount of pulled heartstrings, leaving you begging for more.