Bound by Ice: A True North Pole Survival Story (Paperback)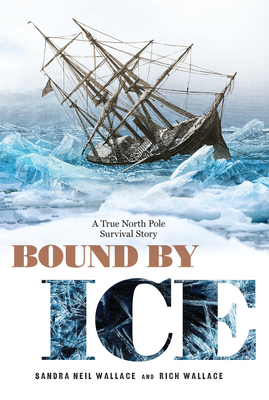 Description
---
Kirkus Reviews Best Children's Book
This thrilling and terrifying true story of the 1879 search for the North Pole follows the frightening fates of the USS Jeannette crew as disaster strikes -- and the men battle to survive two years bound by ice.

In the years following the Civil War, "Arctic fever" gripped the American public, fueled by myths of a fertile, tropical sea at the top of the world. Bound by Ice follows the journey of George Washington De Long and the crew of the USS Jeannette, who departed San Francisco in the summer of 1879 hoping to find a route to the North Pole. However, in mid-September the ship became locked in ice north of Siberia and drifted for nearly two years before it was crushed by ice and sank. De Long and his men escaped the ship and began a treacherous journey in extreme polar conditions in an attempt to reach civilization. Many—including De Long—did not survive.

This true story for middle graders keeps readers on the edge of their seats to the very end. Includes excerpts from De Long's extensive journals, which were recovered with his body; newspapers from the time; and photos and sketches by the men on the expedition. 



About the Author
---
Sandra Neil Wallace had a lengthy career as a news anchor and ESPN sportscaster before writing realistic fiction and nonfiction for young readers. A pioneer in the journalism field, she was the first woman to cover the National Hockey League on network TV. Selected as a promising new voice in children's literature by the Horn Book, Wallace's titles have been named to state and national awards lists. She lives in Keene, New Hampshire. Visit sandraneilwallace.com.

Rich Wallace has written more than three dozen novels for children and teens. His first novel, Wrestling Sturbridge, was selected by the American Library Association as one of the top 100 YA books of the twentieth century. His recent children's nonfiction includes the acclaimed Blood Brother, co-written with his wife, Sandra Neil Wallace. He lives in Keene, New Hampshire. Visit richwallacebooks.com.
Praise For…
---
★ "A gripping account of a disastrous 1879 American expedition to find the North Pole. Finding the pole, "the world's greatest mystery," so captured the public's imagination that more than 1,200 men applied for the 24 positions as sailors. The authors skillfully incorporate quotes from journals, letters, and official documents. Vivid language and narrative techniques such as cliffhangers maximize the drama, while well-chosen anecdotes convey the personalities. Highly appealing narrative nonfiction for anyone who loves true adventure." —Kirkus Reviews, starred review

★ "Extensively researched and illustrated with engravings and paintings contemporary to the 1879 Arctic voyage of the Jeannette, (this) book presents an exemplary example of how to piece together an intriguing story from a variety of sources… Readers of historical adventure will be drawn to the story and appreciate the crew's bravery." —Booklist, starred review  

"The Wallaces bring to vivid life the exciting tale of Lieutenant Commander George W. De Long, expertly incorporating quotes from his and others' journals… A fascinating authors' note lets young readers in on 'the thrills of research,' and the thorough back matter includes a bibliography…source notes, an index, and picture credits." —The Horn Book

"The Wallaces bring the adventure to life not only with their thorough research and incorporation of crewmembers' journal entries, letters and other official documents, but also because they tell the story in crisp, vibrant language. Any fan of adventure will easily immerse him/herself in the gripping drama as each chapter, each cliffhanger unfolds." —VOYA

"The story…is as compelling as any reader could wish, and the Wallaces retell it with clarity and economy. (A)n engrossing rapid read for survival-story fans." —The Bulletin of the Center for Children's Books  

 "Drawing heavily on the journals of the crew of the U.S.S. Jeanette, the Wallaces recount in riveting prose the ship's ill-fated, two-year voyage (1879-1881) in search of warm waters then thought to surround the North Pole. Abundant archival illustrations, bibliography, and source notes bolster this gripping, accessible account." —Publishers Weekly  

"(T)his book uses personal journals, letters, illustrations, and photos to bring to life a piece of US history. Well-researched and engaging, this book would be helpful for research as well as for pleasure reading." —School Library Connection