The Easy Life (Paperback)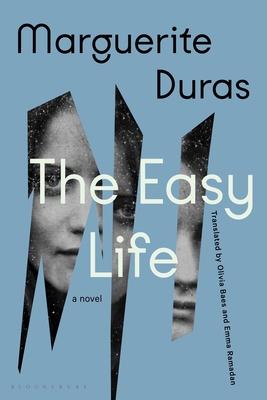 $18.00

In Our Warehouse - Expected arrival in 2-5 days
Description
---
For the first time in English, literary icon Marguerite Duras's foundational masterpiece about a young woman's existential breakdown in the deceptively peaceful French countryside.

The Easy Life is the story of Francine Veyrenattes, a twenty-five-year-old woman who already feels like life is passing her by. After witnessing a series of tragedies on her family farm, she alternates between intense grief and staggering boredom as she discovers a curious detachment in herself, an inability to navigate the world as others do. Hoping to be cleansed of whatever ails her, she travels to the coast to visit the sea. But there she finds herself unraveling, uncertain of what is inside her. Lying in the sun with her toes in the sand by day while psychologically dissolving in her hotel room by night, she soon reaches the peak of her inner crisis and must grapple with whether and how she can take hold of her own existence.

An extraordinary examination of a young woman's estrangement from the world that only Marguerite Duras could have written, The Easy Life is a work of unsettling beauty and insight, and a bold, spellbinding journey into the depths of the human heart.
About the Author
---
Marguerite Duras was one of France's most important and prolific writers. Born Marguerite Donnadieu in 1914 in what was then French Indochina, she went to Paris in 1931 to study at the Sorbonne. During WWII she was active in the Resistance, and in 1945 she joined the Communist Party. Duras wrote many novels, plays, films, and essays during her lifetime. She is perhaps best known for her internationally bestselling novel The Lover, which won the Prix Goncourt in 1984. She died in Paris in 1996.

Emma Ramadan is a literary translator of poetry and prose from France, North Africa, and the Middle East. She is the recipient of a Fulbright, an NEA Translation Fellowship, the 2018 Albertine Prize, and the 2021 PEN Translation Prize.

Olivia Baes is a Franco-American multidisciplinary artist who grew up between France, Catalonia, and the United States. She holds a Master of the Arts in Cultural Translation from the American University of Paris.

Kate Zambreno is the author most recently of Drifts (Riverhead) and To Write As If Already Dead (Columbia UP). The Light Room, a meditation on art and care, is forthcoming from Riverhead in July 2023. She teaches writing at Columbia University and Sarah Lawrence College.
Praise For…
---
"Duras's second novel appears for the first time in English with an immensely lucid and incantatory translation by Emma Ramadan and Olivia Baes, plus a firecracker of an introductory essay by Kate Zambreno. Its three-part cycle of tragedy and its aftermath investigates both the ability of people to sway those they love and the question of whether a person's character is, indeed, fate." —Vulture

"A new look at Marguerite Duras, who shocked the literary world." —The Washington Post

"Remarkable . . . The Easy Life is constructed with the same torqued intensity as all her fiction, seeding the problems that will eventually become Durassian preoccupations: the anguish of poverty, the vertigo of young love, the pull of biological conformity, and the struggle of women to reconcile the requirements of feminine competence with the disorganizing effects of sexual desire . . . Exquisite . . . Soaring." —The New Yorker

"The thrill of reading [The Easy Life] comes from seeing all of the ways Duras was already the writer she would spend the next 50 years becoming, from recognizing how the interests she cultivated throughout her career were already in progress. If Duras's power comes in part from the way her voice enmeshes you in its intensity, this early novel gives us a glimpse of how she learned to wield that voice … Most important, the novel allows the murkiness of everyday emotion to live on the page without straining to explain it, trusting the universality of human experience to render these ideas legible to the reader." —Lynn Steger Strong, The Atlantic

"One of the 20th century's greatest thinkers and prose stylists." —New York Times Book Review

"Seeded with early indicators of its complicated author's talent." —New York Times

"Marguerite Duras was a literary phenomenon . . . In The Easy Life . . . the quintessential Duras tone is already here – stripped-down staccato sentences, remorseless introspection . . . There is a significant cumulative effect. The writing creates an effective climate for the story; it has energy and self-sufficiency that nicely convey the claustrophobia and sexual tension of the group and the place . . . Eight decades on, Duras's nascent talent is on display here." —Guardian

"The bold, internal-facing voice, the dissection of a twisted moral code unique to a family, and the drive to tell the truth about women's sexuality, hold more than historic interest. This novel makes recent book-world discussions of whether main characters need to be likable and whether novels should offer ethics lessons seem simplistic and retrograde. Duras's sui generis style is here, fully formed, as is her lifelong interest in illuminating the depths of the human psyche." —Chicago Review of Books

"At times amazingly good . . . always unflinching in its contemplation of life's great intensities . . . carries the inexorable force of Greek tragedy." —Claire Messud, Harper's

"Racing like a tongue of fire that has found a fuse . . . rendered with stunning, feral clarity by Emma Ramadan and Olivia Baes . . . [an] excellent new translation." —Words Without Borders

"Classic . . . Duras's fiction burn[s] with life." —Los Angeles Review of Books

"What is remarkable about Marguerite Duras's The Easy Life is that not only does it feature a heroine who is consistently out of touch with-and even actively in denial of-what she wants, but Duras has also managed to translate that heroine's struggle into a compelling narrative, all while maintaining the depth of the feminine interiority contained in her prose … we are very lucky that we get to read [Duras' words] in English for the first time." —Liber Review

"The Easy Life by Marguerite Duras is a compelling examination of a young woman's estrangement from the world and offers a memorable exploration of the depths of what it means to be human. With a special appeal to readers with an interest in deftly crafted, eloquent, and original storytelling, and ably translated into English by the linguistic team of Emma Ramadan and Olivia Baes, The Easy Life is especially and unreservedly recommended for community and academic library French/English Literary Fiction collections." —Midwest Book Review

"A brilliant interior novel of a young woman's existential breakdown . . . What may seem like an idyllic French countryside novel is, in the hands of Duras and her masterful translators, a stunning and intense meditation on family, the self, and ultimately the mind." —Book Riot

"[Duras] asks what it means to be a person, a woman, and a body in a world that seeks to destroy and devalue those things, as well as what it means to be a person with a story as opposed to having a simpler life without tragedy . . . it offers glimpses of the heights to come." —Publishers Weekly

"I like this novel better than both Lol Stein and The Lover. Duras' writing here is both more honest and more subtle than her later works. Much of this may be due to the sensitive work of the translators, Olivia Baes and Emma Ramadan . . . It might be tempting to write off The Easy Life as a treat for the Duras-obsessed - a minor discovery for fans. But the presence of Duras' influence in the work of writers such as Ernaux, Zambreno, Chris Kraus, Sheila Heti, Kathy Acker and Claire-Louise Bennett, to name a few, shows us that even Duras' most "minor" works are worth careful consideration." —L.A. Times

"A compelling portrait of a mind in turmoil and of the relentless, unforgiving demands of a true moral reckoning." —Shelf Awareness

"A mind alive to the possibilities of human experience and of the word, and a writer with the courage to publish truly her experience as a woman." —Newsday

"Chilly, introspective, told with barely any dialogue, yet shaped by white-hot melodrama, it's a bracing, uncanny reading experience." —Daily Mail

"While reading Marguerite Duras, it can be hard to tell if you are pressing your hands to her chest or if she is pressing her hands to yours. Has she mined your deepest feelings or have you caught her heart's fever?" —Paris Review

"Marguerite Duras writes brilliantly and strongly . . . her language and writing shine like crystal." —The New Yorker

"In this powerful, immaculately translated novel, we watch the young Marguerite Duras move from the fierce, iron rigors of narrative to her more characteristic style of relentless introspection. This book, which she wrote in her twenties, already reveals all her powers." —Edmund White, author of A BOY'S LIFE and A SAINT FROM TEXAS

"Reading The Easy Life, there is a sense of riding on the edge of a dark wave, a brilliant intensity only Marguerite Duras could bring into existence. A novel of the disquieting contours of family, and of the mind, and of life unceasing even in the midst of death. How exhilarating to be able to encounter Francine Veyrenattes, a character I won't forget, and for the first time in English, this early work by one of the most important, visionary writers of all time." —Amina Cain, author of INDELICACY