Paradise, Nevada (Hardcover)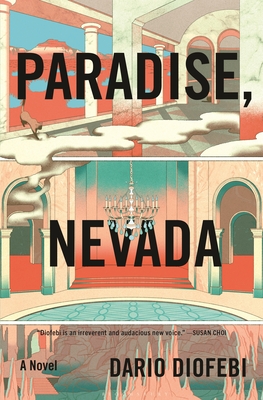 $28.00

In Our Warehouse - Expected arrival in 2-5 days
Description
---
"Diofebi is an irreverent and audacious new voice."- Susan Choi, National Book Award-Winning author of TRUST EXERCISE

"Vegas has been right there forever, waiting for a great novelist, and Dario Diofebi has come dealing nothing but aces."--Darin Strauss, NBCC Award-Winning author of HALF A LIFE

From an exhilarating new literary voice--the story of four transplants braving the explosive political tensions behind the deceptive, spectacular, endlessly self-reinventing city of Las Vegas.

On Friday, May 1st, 2015 a bomb detonates in the infamous Positano Luxury Resort and Casino, a mammoth hotel (and exact replica of the Amalfi coast) on the Las Vegas Strip.

Six months prior, a crop of strivers converge on the desert city, attempting to make a home amidst the dizzying lights: Ray, a mathematically-minded high stakes professional poker player; Mary Ann, a clinically depressed cocktail waitress; Tom, a tourist from the working class suburbs of Rome, Italy; and Lindsay, a Mormon journalist for the Las Vegas Sun who dreams of a literary career. By chance and by design, they find themselves caught up in backroom schemes for personal and political power, and are thrown into the deep end of an even bigger fight for the soul of the paradoxical town.

A furiously rowdy and ricocheting saga about poker, happiness, class, and selflessness, Paradise, Nevada is a panoramic tour of America in miniature, a vertiginously beautiful systems novel where the bloody battles of neo-liberalism, immigration, labor, and family rage underneath Las Vegas' beguiling and strangely benevolent light. This exuberant debut marks the beginning of a significant career.
About the Author
---
Dario Diofebi was born in Rome, Italy, in 1987. After a BA and an MA in Comparative Literature from the University of Rome, he became a professional online poker player from age 22 to 26. After that, he was a traveling high stakes live poker player for another three years, mostly based in Las Vegas. He quit the game to pursue writing, and received an MFA from the NYU Creative Writing Program. He lives in Rome and Brooklyn, NY.
Praise For…
---
"Trick by trick and hand after hand, Diofebi proves a gifted young maximalist. Around his desert oasis he gathers a fascinating crowd." —Los Angeles Times

"A throwback to the sprawling 1990s systems novel on both a conceptual level and a sentence-for-sentence basis…Diofebi's scuzzy ambiance is delicately crafted, his scenes deftly taxonomizing tiers of desperate gamblers and casino staff like species in a field guide." - Washington Post

"This thrilling novel gives us an insider's view of the gritty reality behind Las Vegas' neon. . . . [Diofebi's] exquisitely detailed descriptions make the story feel incredibly real-from a detailed breakdown of a good poker hand to a stunning description of a casino's bright colors fading in the relentless desert sunlight. Quirky, compelling, and raw, Paradise, Nevada is a sure bet." —Apple, "Best of the Month"

"A big, bold, searching American novel. . . This sprawling, delightful debut book captures the artificial worlds within worlds in the casinos, the unnavigable streets just outside the strip, the big dreams, and the bad beats. It has a labor dispute, a big explosion, and an immigration saga. Most of all it has four vivid strivers at its core. The author, who spent several years as a professional poker player (both online and live), knows these people and their habitats, and he brings them to life in colorful, page-turning detail." —Kirkus Reviews, starred review

"In his staggering debut novel, Diofebi has created a comic epic with the complexity and sweeping emotion to suit its singular setting, Las Vegas." - Shelf Awareness, starred review

"With intelligence and empathy, Diofebi delivers a powerful and unapologetic slice of Americana." —Publishers Weekly

"This is a heady read, filled with surprising turns of phrase and unexpected relationships . . . Readers of complex literary fiction will appreciate the sharp and nuanced writing." —Booklist

"Partly a love letter to Las Vegas, and partly a bleak and honest depiction of an area that is rapidly gentrifying . . . A novel that contains multitudes, with characters and places and history and future living inside the pages." - Ploughshares

"This book aims high and delivers: the combination of [Diofebi's] Vegas setting and his empathetic characters push this into a crime novel as a comedy of manners writ broad. An auspicious debut." - Crimereads

"Paradise, Nevada won't just compel with its high-stakes momentum, it'll teach you to win high-stakes poker! Dario Diofebi is an irreverent and audacious new voice." —Susan Choi, National Book Award-Winning author of TRUST EXERCISE

"Dario Diofebi is a wonder-a brilliant comic voice telling a thrilling compassionate story. People have talked about the complete winning package, the full boat that's aces over kings, and that's Diofebi: piercingly funny about modern life, compassionately human about his characters. Diofebi's written the ultimate poker novel, the ultimate casino story-but there's also the voice, one you know is going to be around for a long time, with the thrill of catching it on day one, on the ground floor." —David Lipsky, author of ABSOLUTELY AMERICAN and ALTHOUGH OF COURSE YOU END UP BECOMING YOURSELF

"This is a book made of neon and late nights and that glass of scotch that appears just when you want it. It's been years since I read anything nearly as fun. Vegas has been right there forever, waiting for a great novelist, and Dario Diofebi has come dealing nothing but aces." —Darin Strauss, National Book Critics Circle Award-Winning author of HALF A LIFE

"Paradise, Nevada is a superbly energetic novel of Las Vegas, a place teeming with glittering wins and crushing losses. When the bright lights go out, Dario Diofebi proves himself to have a great eye for the cards different people are dealt, and a great ear for laughter in the dark." —Jonathan Lee, author of HIGH DIVE and THE GREAT MISTAKE