The Silent War (Paperback)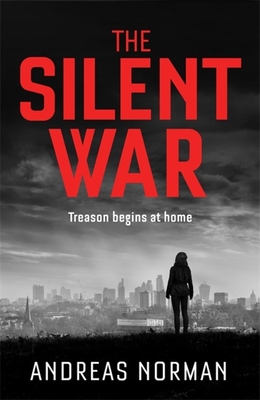 Email or call for price.
Not Available at This Time
Description
---
EVERY FAMILY HAS ITS SECRETS--SOME ARE WORTH KILLING FOR.
As the head of Swedish Intelligence in Brussels, Bente Jensen has many enemies, even among those who ought to be her allies--such as Jonathan Green of MI6. In a city heaving with competing espionage agencies, he is the person she fears and distrusts most. She has good reason. They share a past.
Green has been part of an MI6 conspiracy to hold, interrogate, torture, and kill its political prisoners in a safe house in Syria. This explosive information has been leaked to Bente by a conscience-stricken British operative. When it is clear she can expose this operation, MI6 uses its full arsenal of dirty tricks to shame her, disgrace her, destroy her relationships, and remove her from active service.
But Green's private life has more in common with Bente's than he cares to admit. He is far from fireproof himself. Both spies will find themselves targets of the UK establishment's precisely calculated revenge.
Like its highly acclaimed predecessor
Into A Raging Blaze,
Andreas Norman's new novel is a morally and politically complex international thriller. Its nail-biting plot and sympathetic characters show the tragic human consequences of private and public treachery.
About the Author
---
Andreas Norman is a former diplomat who worked for the Swedish Ministry of Foreign Affairs for ten years on security issues and counterterrorism. Into a Raging Blaze was Norman's debut novel. It anticipated the Edward Snowden revelations, received international acclaim, and was shortlisted for the CWA International Dagger Award.
Ian Giles has a PhD in Scandinavian literature from the University of Edinburgh. He translates fiction and nonfiction from Swedish, Norwegian, and Danish, and is the chair of the Swedish-English Literary Translator's Association.
Praise For…
---
"This propulsive, thought-provoking thriller will leave readers pondering the bedeviling eternal question: should evil ever be done so that good may result?"
—
Publishers Weekly, Starred Review
"With a credible plot and believable characters, this is a high-tension thriller of dirty tricks and calculated revenge."—
CHOICE Magazine
"This impressive novel shifts between Brussels, London and Syria in a horrifying and moving exploration of different kinds of betrayal."—
Literary Review
"Norman is an innovative stylist: the fast-paced narrative, fluently rendered in translation by Ian Giles, is written in the third person present tense with an omniscient narrator. This brings a sense of intimacy that is almost claustrophobic, especially at the roller-coaster climax"—
Financial Times
"In this taut, engaging and fascinating thriller . . . the writing is crisp, the action fast paced, the plot is psychology convincing and the subject matter both credible and contemporary. . . Andreas Norman will be one to watch."—
ShotMag
Praise for Into a Raging Blaze
"Norman spent 10 years as a diplomat, and his knowledge of espionage fuels the high-octane pace. You'll fall for his complex plot and characters - not just Carina but also her Egyptian-born boyfriend and the agent who's tracking her. Finally, a thriller for the Wikileaks era."
—
Tina Jordan, Entertainment Weekly
"Norman weaves EU politics, the dark reality of diplomacy, and modern espionage techniques together with a classic thriller story, creating a detailed, thoughtful exploration of ethics and sacrifices in the error of the War on Terror and Wikileaks. Fully dimensional characters humanize this thriller, and readers will be intrigued by the European perspective on international power, which blurs the role of the U.S. as the good guy."
—
Christine Tran, Booklist (Starred Review)
"A first-rate debut thriller that asks: Who watches the watchers if they
don't choose to be seen? The narrative starts slow but doesn't take long
to build up speed. From then on, watch out!"—
Library Journal
"Swedish writer Andreas Norman's novel starts with a spark then simmers for a while before reaching the state of its title,
Into a Raging Blaze...
While a thoroughly entertaining work of fiction, the issue of security vs. privacy in contemporary society is a fact written between every line."
—
Pittsburgh Post-Gazette
"So plugged into the present that it's hard to believe its publication in
Norman's native Sweden anticipated Edward Snowden's revelations by two
months . . . Norman's understanding of the dark, destructive side of
surveillance is second to none, and at its best, Into a Raging Blaze is convincing and addictive."
—
The Guardian
"A modern take on the spy thriller . . . Norman's warning is a clear
message to the 'nothing to hide, nothing to fear' camp who challenged
the import of the Snowden revelations . . . A Le Carré-esque yarn that's
rooted in verisimilitude. No faint praise, that."—
The Independent
"Norman handles its derring-do deftly. For British readers, however, the
main source of interest is its unflattering reverse-angle view of our
spooks at work."—
Sunday Times
"Andreas Norman is uncannily close to the truth."—
Anonymous, Swedish Security Service