Three Daughters of Eve (Paperback)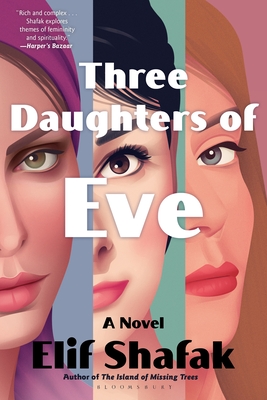 $18.00
Email or call for price.
December 2017 Indie Next List
---
"Elif Shafak's Three Daughters of Eve depicts a sophisticated and compelling story of modern Istanbul. Peri is now a rich and glamorous woman living a comfortable life. While suffering through a tedious dinner party with the international elite, she ponders her days as a student at Oxford, when her life was profoundly impacted by two friends and a charismatic professor. As a young, unformed student, Peri felt lost in her search for faith and self. Looking back on these years from the perspective of adulthood, Peri must confront her past before it collides with the present. Compelling, poignant, and highly relevant, Three Daughters of Eve is a modern exploration of identity in a changing world."
— Pamela Klinger-Horn, Excelsior Bay Books, Excelsior, MN
Winter 2018 Reading Group Indie Next List
---
"Unfolding in both contemporary Istanbul and Oxford during the academic year 2001–2002, Shafak's compelling novel examines a series of dualities—east and west, men and women, religious and secular—in order to discover a more harmonious 'third path.' The protagonist, Peri, embodies this quest. Growing up in Turkey, she inhabited a limbo between her mother's defiant religion and her father's defiant materialism, and as a result has suffered bouts of paralyzing indecision—with tragic consequences."
— Laurie Greer, Politics and Prose Bookstore, Washington, DC
Description
---
The stunning, timely new novel from the acclaimed, internationally bestselling author of The Architect's Apprentice and The Bastard of Istanbul.

Peri, a married, wealthy, beautiful Turkish woman, is on her way to a dinner party at a seaside mansion in Istanbul when a beggar snatches her handbag. As she wrestles to get it back, a photograph falls to the ground--an old Polaroid of three young women and their university professor. A relic from a past--and a love--Peri had tried desperately to forget.

Three Daughters of Eve is set over an evening in contemporary Istanbul, as Peri arrives at the party and navigates the tensions that simmer in this crossroads country between East and West, religious and secular, rich and poor. Over the course of the dinner, and amidst an opulence that is surely ill begotten, terrorist attacks occur across the city. Competing in Peri's mind, however, are the memories invoked by her almost-lost Polaroid, of the time years earlier when she was sent abroad for the first time, to attend Oxford University. As a young woman there, she had become friends with the charming, adventurous Shirin, a fully assimilated Iranian girl, and Mona, a devout Egyptian American. Their arguments about Islam and feminism find focus in the charismatic but controversial Professor Azur, who teaches divinity, but in unorthodox ways. As the terrorist attacks come ever closer, Peri is moved to recall the scandal that tore them all apart.

Three Daughters of Eve is a rich and moving story that humanizes and personalizes one of the most profound sea changes of the modern world.
About the Author
---
Elif Shafak is the acclaimed author of fifteen books, ten of which are novels, including The Bastard of Istanbul and The Forty Rules of Love. Her work has been translated into more than forty languages and she regularly contributes to the New York Times, the Guardian, and Politico. Shafak has been longlisted for the IMPAC Dublin Literary Award and twice for the Women's Prize for Fiction and shortlisted for the Independent Foreign Fiction Prize. She has held various teaching positions in the U.S. and the UK, most recently at Oxford University. She lives in London. www.elifshafak.com
Praise For…
---
"Elif Shafak's new novel reveals such a timely confluence of today's issues that it seems almost clairvoyant . . . There are novels you want to cherish in the sanctity of your own adoration, and then there are novels you feel impatient to talk about with others. Press Three Daughters of Eve on a friend or your book club for a great conversation about this flammable era we live in now." —The Washington Post

"[Three Daughters of Eve] offers a complex portrayal of Turkey." —The New Yorker

"The ways in which an unresolved past can fuel present-day tensions is the subject of Shafak's vivid and timely eighth novel." —Vogue

"A beautifully rendered tale of homeland and faith." —Marie Claire

"Rich and complex . . . Shafak explores themes of femininity and spirituality and extremism and political oppression in a way that feels thoughtful and refreshing." —Harpers Bazaar

"Safak is one of Turkey's most popular novelists, and her fiction and nonfiction has been translated around the world. Three Daughters of Eve, her 10th novel, takes place in contemporary Istanbul, but looks back on an earlier era, as Peri, a wealthy housewife, recalls her friendship with two fellow students at Oxford University." —The Millions, "Most Anticipated"

"This is a truly modern novel--about the way we are shaped by politics, including freedom of expression and political repression, but also by our personal relationships." —Sadiq Khan, Financial Times, "Best Books of 2017"

"From Turkish writer Elif Shafak, Three Daughters of Eve follows a wealthy woman in Istanbul whose university friendships become touchstones as she navigates politics of Islam and feminism." —San Diego Magazine, "5 Books to Read in December"

"Shafaq has masterfully created equally lush portraits of warm and complicated Istanbul and cold and collected Oxford . . . Three Daughters of Eve is a marvelous lesson in multiculturalist angst, the clash between modernity and tradition, and the vicissitudes of personal struggle. A must-read that entertains and informs without preaching." —New York Journal of Books

"Shafak is a brilliant chronicler of the ills that plague contemporary society and once again proves her mettle." —Booklist

"[Shafak's] portrait of a woman in existential crisis feels universal, shining clarifying light on Islam--and religious spirituality in general--within the frame of today's world." —Kirkus Reviews

"Readers interested in debates about the nature of God will find the book intriguing." —Publishers Weekly

"Shafak deftly captures Peri's struggles with faith, her attempts to please the people she loves and her ongoing attempts at the art of feigning happiness." —Starred review, Shelf Awareness

"Turkish author Shafak uses rich, thought-provoking prose to illuminate women's struggles and fuse Islam with feminist theory. Like her compatriot Orhan Pamuk, Shafak illustrates the ongoing fissure between Eastern and Western culture in Turkey." —Library Journal

"In striking, lovely language, Shafak considers Islamophobia, teacher-student relationships and terrorism of many kinds. Fresh and timely, this is an approachable novel of big ideas." —BookPage

"Timely, fascinating . . . Three Daughters of Eve slowly teases out the defining moments in the life of its Muslim protagonist." —The Seattle Times

"Elif Shafak's urgent, topical novel explores the ambiguities and dangers of being caught in the Land of Between. The book's protagonist, Peri, is torn between her mother and her father, between her love and hate for a charismatic professor, between the double lures of religiosity and secularism. Three Daughters of Eve upends the omnipresent but crude truisms of East and West, oppression and liberation, right and wrong that continue to divide, torment, and haunt us all." —Siri Hustvedt