My Name Isn't Oof!: Warren the Warbler Takes Flight (Hardcover)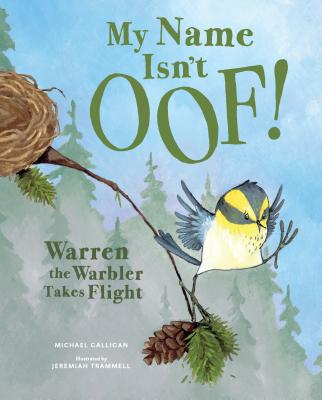 Email or call for price.
Not Available at This Time
Description
---
A sweet and humorous story about a young bird who is ready to leave the nest, but, unlike his siblings, can't quite get the knack of flying. My Name Isn't Oof! has a positive message about not giving up!

Meet Warren, a fledgling whose first attempt to fly lands him on the ground with a resounding oof! He's soon joined by curious four-legged forest animals who gather to give him tips on flying, though they've never flown themselves. As they go through the motions with humorous results, Warren gets inspired to give flying another try. With the help of his new friends will he succeed to soar?

In addition to the delightful narrative, there is back matter that introduces young readers to Warren's species, the Townsend's warbler, and shares what to do if you find a young bird on the ground.
About the Author
---
When someone once asked what animal MICHAEL GALLIGAN would want to be, he said bird, because he thought flying would be the most fantastic ability. But since he still can't fly, he loves to watch and listen to the birds on Washington State's beautiful Olympic Peninsula, where he lives with his family. My Name Isn't Oof! is his authorial debut.

Jeremiah Trammell is an illustrator whose work has appeared in over five children's books, including The Giant Cabbage. He lives in Seattle.
Praise For…
---
"An entertaining offering for the nature shelf and preschool storytime."--Kirkus Reviews

"The elegantly simple text rolls off the tongue as the story builds momentum towards Warren taking flight. Painted illustrations with a canvas texture match the rustic nature of this book with lovely forest greens and natural, inviting colors—you can almost hear Warren's warbles through the visuals of his open beak.  The factual back matter on Townsend Warblers and baby birds is a pleasant bonus."--The Children's Book Review

"A cute story of perseverance with some hilarious physical comedy, My Name Isn't Oof! will have younger readers giggling during a read-aloud"--Mom Read It