Chasing the Show (Paperback)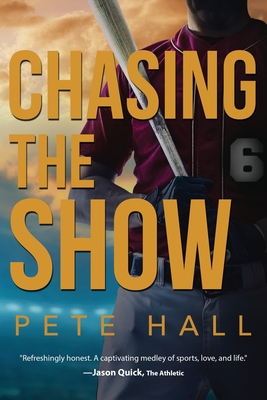 $19.95

In Our Warehouse - Expected arrival in 2-5 days
Description
---
Former award-winning school principal Pete Hall's debut novel follows the ups and downs of 18-year-old Anthony Sumner's quest of becoming a professional athlete. He's driven, talented, confident...and faces a future full of unknowns.
"One hundred forty-six "
Anthony Sumner bursts into Mrs. Andrews' government classroom, interrupting the activity and announcing his presence with his usual flair. Arms raised exuberantly, he marches directly to the white board in the front of the room, erases the "149," and scribbles "146" in red ink. "Happy Monday " He winks at his teacher, high-fiving a classmate at a nearby table as he sits proudly at his seat.
"Thank you, Mr. Sumner, for again gracing us with your presence and your countdown. How in the world would we survive without you?" Mrs. Andrews has paused her discussion about the limits of the executive branch to entertain the daily disruption. "If you must share with us the number of days until baseball season starts, could you at least arrive to class on time, so you don't mess with our mojo? Keep this up, and I'll start keeping track of the number of days until you graduate."
Muffled laughter around the room. Anthony is undeterred. "Don't you already?" he asks, cocking an eyebrow at his teacher.
"Not publicly," she retorts. "Now get caught up. We have learning to do. And stop with the eyebrow."
With authentic characters, well-paced storytelling, and some raw insights into the mind of a young adult convinced of a single path to success, this book is an enjoyable and (in the author's words) helpful read.
For young adult readers, it's relatable. The dream, the relationships, the successes, the failures...all part of the messy reality of growing up. The fun, the awkwardness, the uncertainty...it's all there.
For grown-up readers, the author brings his educational background to use by weaving in discussions and interactions with educators, coaches, parents, and Anthony's peers to help him navigate his path, to embrace a Plan B, and to better understand himself.
As an added bonus, Chasing the Show comes with a link to free online discussion guides - one for young adult readers, one for not-so-young adult readers - to facilitate the communication, dialogue, and reflection needed to take the many lessons life teaches us and put them to use. No matter what your entry point is, this story is sure to leave you entertained and equip you for the journey ahead.