Gorillas Up Close (Hardcover)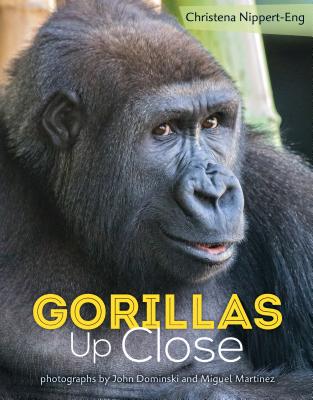 $19.99
Email or call for price.
Description
---
Have you ever wondered how experts train a gorilla? Or what design features make a great gorilla habitat? Did you know that some gorillas can solve problems on giant touch-screen computers?
Filled with facts and photos, Gorillas Up Close takes us into the world of gorillas. Explore the differences between gorillas in zoos and in the wild with the gorilla family troop in Chicago's Lincoln Park Zoo. Readers will delight in the similarities gorillas share with humans while finding out more about these incredible animals.
About the Author
---
Christena Nippert-Eng has produced charming, informative, and beautifully photographed nonfiction books for children, including What Is Baby Gorilla Doing?

John Dominski is a design researcher at gravitytank in Chicago. He is an avid photographer and movement enthusiast and has been recently bitten by wanderlust. John is the principal natural photographer for What Is Baby Gorilla Doing?
Praise For…
---
"A fascinating, eye-opening introduction to gorillas, particularly those living in captivity." —Booklist, starred review, on Gorillas Up Close
"In this visually arresting work, Nippert-Eng bridges the gap between gorillas and humans. . . Subject matter includes the expected (habitat, diet, and care for this endangered species) to the delightfully unanticipated (how to identify a gorilla and tips for watching and photographing). . . . engaging animal nonfiction for upper elementary and middle school collections. Highly recommended." —School Library Journal on Gorillas Up Close
"The photos really steal the show . . . a series of portraits—including "formal" head shots—capture not just individual facial features (as diverse as any group of humans) and an amazing range of expressions, but also a powerful, dignified presence in each of about two dozen primates." —Kirkus Reviews on Gorillas Up Close