A Wrinkle in Time (Madeleine L'Engle's Time Quintet) (Prebound)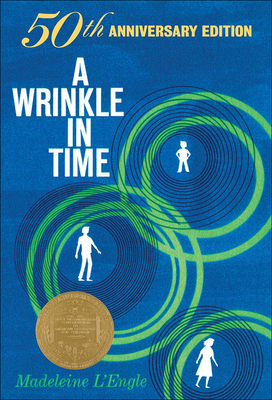 $20.80
Email or call for price.
Description
---
Fifty years ago, Madeleine L'Engle introduced the world to "A Wrinkle in Time "and the wonderful and unforgettable characters Meg and Charles Wallace Murry, and their friend Calvin O'Keefe. When the children learn that Mr. Murry has been captured by the Dark Thing, they time travel to Camazotz, where they must face the leader IT in the ultimate battle between good and evil--a journey that threatens their lives and our universe. A Newbery Award winner, "A Wrinkle in Time "is an iconic novel that continues to inspire millions of fans around the world. This special edition has been redesigned and includes an introduction by Katherine Paterson, an afterword by Madeleine L'Engle's granddaughter Charlotte Jones Voiklis that includes photographs and memorabilia, the author's Newbery Medal acceptance speech, and other bonus materials.
About the Author
---
Madeleine L'Engle (1918-2007) was the Newbery Medal-winning author of more than 60 books, including the much-loved "A Wrinkle in Time." Born in 1918, L'Engle grew up in New York City, Switzerland, South Carolina and Massachusetts. Her father was a reporter and her mother had studied to be a pianist, and their house was always full of musicians and theater people. L'Engle graduated cum laude from Smith College, then returned to New York to work in the theater. While touring with a play, she wrote her first book, "The Small Rain," originally published in 1945. She met her future husband, Hugh Franklin, when they both appeared in "The Cherry Orchard." Upon becoming Mrs. Franklin, L'Engle gave up the stage in favor of the typewriter. In the years her three children were growing up, she wrote four more novels. Hugh Franklin temporarily retired from the theater, and the family moved to western Connecticut and for ten years ran a general store. Her book "Meet the Austins," an American Library Association Notable Children's Book of 1960, was based on this experience. Her science fantasy classic "A Wrinkle in Time" was awarded the 1963 Newbery Medal. Two companion novels, "A Wind in the Door" and "A Swiftly Tilting Planet" (a Newbery Honor book), complete what has come to be known as The Time Trilogy, a series that continues to grow in popularity with a new generation of readers. Her 1980 book "A Ring of Endless Light" won the Newbery Honor. L'Engle passed away in 2007 in Litchfield, Connecticut.