Geraldine (Hardcover)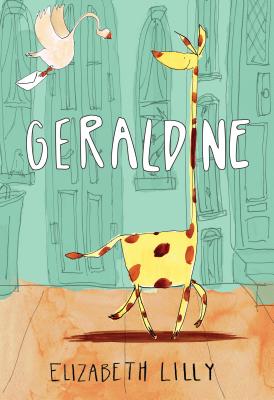 Description
---
No, no, NO!

Geraldine is NOT moving.

Not to this new town where she's the only giraffe. Not to this new school where she has no friends. Not to this new place, where everyone only knows her as That Giraffe Girl.

But soon Geraldine meets Cassie, a girl who is just as much of an outcast as she is, and as time goes by, she realizes that being yourself and making one really good, unusual friend can help someone who literally stands out fit right in.

Together, Geraldine and Cassie play by their own rules.
About the Author
---
Elizabeth Lilly is an author-illustrator, animator, and graphic designer. Elizabeth was a reading, doodling daydreamer in high school, and, unsure of her path, went to architecture school at Virginia Tech for college. Elizabeth graduated from college in May of 2014. She now makes her stories in a little old house in the little old city of Baltimore, Maryland. Geraldine is her debut picture book.
Praise For…
---
*"A whimsical take on being the new kid in town; an excellent pick for storytimes or one-on-one sharing."—School Library Journal, starred review

*"Readers will fall in love with Geraldine in this stellar debut. Perfect for young giraffes—or children—who stand out in the very best of ways and just need to know they're all right exactly how they are."—Kirkus, starred review

*" Lilly's watercolor-and-ink drawings are as vividly comic and emotionally astute as her writing; just when readers think there are no more ways for Geraldine to contort her long neck, this highly promising talent comes up with something new."—Publishers Weekly, starred review