Science Comics: Flying Machines: How the Wright Brothers Soared (Hardcover)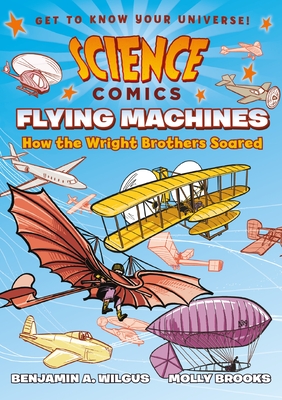 $21.99
Email or call for price.
Description
---
A National Science Teachers Association Best STEM Books of 2017

Take to the skies with Flying Machines!

Follow the famous aviators from their bicycle shop in Dayton, Ohio, to the fields of North Carolina where they were to make their famous flights. In an era of dirigibles and hot air balloons, the Wright Brothers were among the first innovators of heavier than air flight. But in the hotly competitive international race toward flight, Orville and Wilbur were up against a lot more than bad weather. Mechanical failures, lack of information, and even other aviators complicated the Wright Brothers' journey. Though they weren't as wealthy as their European counterparts, their impressive achievements demanded attention on the international stage. Thanks to their carefully recorded experiments and a healthy dash of bravery, the Wright Brothers' flying machines took off.
About the Author
---
Benjamin A. Wilgus is a Brooklyn-based bestselling writer, editor, and cartoonist who's been working in comics for over a decade. He is the author of the SF graphic novel duology Chronin (Tor Books), which NPR called "timeless in more ways than one," and Book Riot called "magical," and which has garnered a host of glowing reviews. His middle grade graphic novel Science Comics: Flying Machines (with artist Molly Brooks) was named one of the National Science Teachers Association's Best STEM Books for 2018. He is also the writer of the YA graphic novel The Mars Challenge (with artist Wyeth Yates). Benjamin's New York Times bestselling work has been published by DC Comics, Dark Horse, Del Rey, and Scholastic, and he served as a script and story writer for Cartoon Network's "Codename: Kids Next Door." In his spare time, he co-hosts a podcast about comics publishing called "Graphic Novel TK" with Gina Gagliano.

Molly Brooks is a highly-sophisticated disaster machine fueled by green tea and jelly beans. She grew up in Nashville, Tennessee, and is currently based in Brooklyn. She has a BFA in Communication Design from Washington University in St. Louis, and an MFA in Illustration as Visual Essay from the School of Visual Arts. Her illustrations have appeared in The Village Voice, Time Out New York, The Nashville Scene, The Riverfront Times,The Toast, BUST Magazine, ESPN social, Sports Illustrated online, and others. She spends her spare time watching vintage buddy cop shows and making comics about knitting, hockey, and/or feelings.
Praise For…
---
Praise for the Science Comics series:

"This series—written by a handful of authors—seems determined to offer a useful introduction to anything a curious grade-school student might wonder about. The insight behind these books is a powerful one. So much information about the world around us is actually better conveyed visually, through charts, illustrations, and sequential panels, than purely using words." —New York Times

"Like having a Time Life Science Library in comic books. Which is awesome!" —Popular Science

Praise for Science Comics: Flying Machines:

"Inspirational reading for budding middle grade inventors and engineers—valuable for its broad picture of aviation's early history and for providing specifics about the technical problems the Wright brothers faced and solved." —School Library Journal

"An accessible and engaging introduction to the Wright brothers and how they ushered in the age of flight." —Kirkus