The Bad Immigrant (Paperback)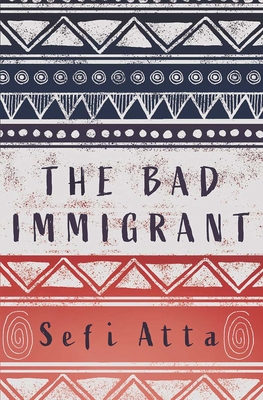 $16.95
Email or call for price.
Description
---
An account of an immigrant family's struggle and the lessons learned about diversity from the Wole Soyinka prize-winning author of Everything Good Will Come

Writing at the height of her powers, The Bad Immigrant cements Sefi Atta's place as one of the best storytellers of our time. Through the voice of her first male protagonist, Lukmon, Atta peels away nuanced layers to expose the realities of migration from Nigeria to the USA, such as the strains of adjustment and the stifling pressure to conform without loss of identity.

Covering a wide range of issues, including interracial and intra-racial tensions, and familial strains exacerbated in a new geographic and cultural environment, this novel is a thoroughgoing exposition of the many challenges that confront a modern migrant, told from the perspective of a protagonist whose sophistication and educational prowess is no guarantee of success in a country that is prone to valuing conformity over merit. Atta grounds Lukmon's narrative in a wide array of cultural and literary allusions that testify to the author's wit and sophisticated management of complicated matters in a manner at once erudite and accessible.

In The Bad Immigrant, Atta deftly drives the narrative forward with repartee that forges deep intimacy with the characters and engenders sympathy for all of them, even those we find infuriating.
About the Author
---
Sefi Atta is the author of Everything Good Will Come, Swallow and A Bit of Difference. She has been awarded the Wole Soyinka Prize for Literature in Africa and the NOMA Award for Publishing in Africa.
Praise For…
---
"A clever, compassionate and swift-paced exploration of identity, race, and belonging. In prose that is both witty and sharp, Atta draws the reader into an unforgettable tale of an immigrant family finding ways to live their own versions of the American Dream. A brilliant, brilliant book."
— Chika Unigwe

"Atta humorously and honestly executes the story of Karim family as they try to make sense of the elusive American dream after winning the visa lottery. A hilarious, painfully candid, and thoroughly captivating read."
— Bunmi Oyinsan

"An outstanding book from an exceptional author in which words seamlessly build on one another to erect a towering tale of compromise, tenacity, and hope, interlaced with wittiness and keen observations about culture and human character."
— Benjamin Kwakye

"[T]he latest from the award-winning Atta [is] a fun, thought-provoking, and refreshing culture-clash tale featuring a loving family adapting to a strange, new land."
— Booklist

"Atta is unflinching in her portrayal … This is a trenchant and notable take on the immigrant experience."
— Publishers Weekly, Starred Review

"Sefi Atta's layered novel examines the culture clash faced by migrants trying to assimilate while still preserving their identities. Atta's intelligent, unfiltered, satirical storytelling is compelling and compassionate."
— Christian Science Monitor

"A timely, entertaining, expertly crafted, thoughtful and thought-provoking novel given our current national political, cultural, and social controversies over immigration issues, The Bad Immigrant is especially and unreservedly recommended for personal reading lists, as well as community library Contemporary General Fiction collections."
— Midwest Book Review