Glaciers Are Alive (Hardcover)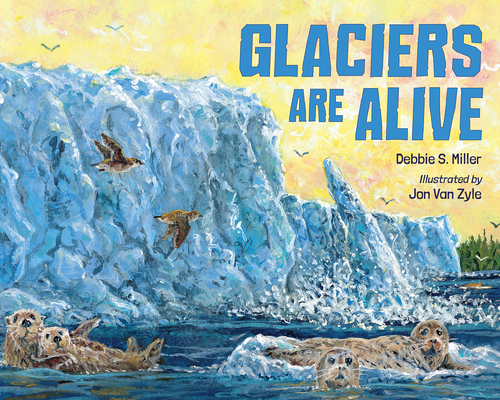 $17.99
Email or call for price.
Description
---
This environmental picture book introduces young science and nature lovers to the wonders of glaciers, the wildlife that call them home, and how important they are to the health of our planet.

A glacier may look forbidding and empty, but it supports abundant life. Follow a glacier as it flows from mountain to ocean, providing a home for ice worms, birds, bears, and more. Where the glacier meets the sea, it creates a rich environment for marine life such as seals, otters, and whales.

As glaciers melt at a rapid rate due to climate change, their disappearance impacts not only the wildlife that calls them home, but also all life on earth. Glaciers are alive, and they need our protection!
About the Author
---
Debbie S. Miller has a passion for writing about the wilderness and wildlife that surround her home in northern Alaska. Out her window she sees humpback whales spouting in the bay, and brown bears occasionally walk through her garden. She is the author of many nature books for adults and children, including the award-winning picture books The Great Serum Race; Survival at 40 Below; and Arctic Lights, Arctic Nights, all of which were illustrated by Jon Van Zyle.

Alaska is artist Jon Van Zyle's inspiration. Having twice completed the Iditarod Trail Sled Dog Race, he is now the official artist of the Iditarod and the recipient of a Governor's Arts and Humanities Award. In addition to producing paintings for exhibitions, prints, and posters, he illustrates children's books, including several by Debbie S. Miller. www.jonvanzyle-ak.com
Praise For…
---
A survey of wildlife in, around, and dependent on tidewater glaciers.

Miller's title may stretch the point, but her tally of glacial flora and fauna is quite full—ranging from pink algae and ice worms to brown bears and humpback whales. And, along with depicting them all with nearly photographic precision in his acrylic illustrations Van Zyle ably captures the rugged character and monumental scale of the frozen river as it grinds through mountains and down to tower over cold-looking arctic waters. The glacier's exact locale isn't specified, but a reference to Prince William Sound in the dedication and the longtime collaborators' string of Alaska-centered picture books makes it clear enough, and along with a generous helping of glacial argot (firn ice, bergy seltzer, seracs), the author adds timely warnings about the effects and hazards of climate change on glaciers worldwide. The human hikers and boaters who put in occasional appearances are too tiny to be individualized. 

Revealing glimpses of an icy but populous natural habitat. 

— Kirkus Reviews