D-39: A Robodog's Journey (Hardcover)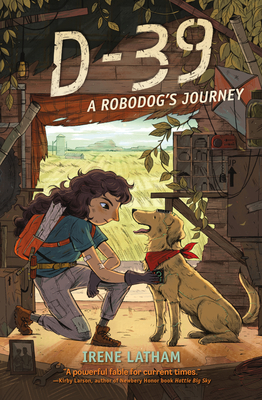 $17.99
Email or call for price.
Description
---
Klynt's days on her Papa's farm are all the same, even during wartime. Until the robodog, that is. A dystopic but heartwarming novel-in-verse perfect for fans of Pax by Sara Pennypacker.

In a future United States, civil war is devastating a country on its last legs. On one side: the Patriots. On the other: President Vex's corrupt government. In the middle: everybody else, just trying to survive. The war is going from bad to worse, but out in the sparsely populated Worselands, twelve-year-old Klynt Tovis doesn't see much of it.

Instead, Klynt spends most of her long summer days bored, or restoring artifacts in her Museum of Fond Memories. Real pet dogs are a thing of the past: after they were found to be carriers of a sickness the government ordered them all killed. But one day an incredible antique shows up at the farm: a D-39 robodog, "Real as a dog can be!" Klynt is overjoyed, but the good luck doesn't last. When the war makes its way into the empty Worselands, she and D-39 find themselves thrown into an epic journey for survival and hope.

Through the twists and turns of this riveting read, Irene Latham deftly shows how kindness can appear in unexpected places during uncertain times.
About the Author
---
Irene Latham is the author of more than a dozen books, including two novels for children: Leaving Gee's Bend and Don't Feed the Boy. Winner of the 2016 ILA Lee Bennett Hopkins Promising Poet Award, her poetry books for children include Nine: A Book of Nonet Poems, Dear Wandering Wildebeest, When the Sun Shines on Antarctica, Fresh Delicious, and Can I Touch Your Hair? (co-written with Charles Waters). Irene lives near Birmingham, Alabama.
Praise For…
---
Twelve-year-old Klynt Tovis enjoys tinkering with and restoring gadgets.
She lives with her father on their family farm in a war-torn country where the greedy, violent, and unjust actions of warring factions have resulted in a time of scarcity and fear. Klynt's only company when school is out is her father and, occasionally, her neighbor's young son, Jopa. That is, until the day when a D-39 robodog—a realistic dog robot—turns up on her farm. Klynt and D-39 soon become inseparable. After a bomb forces them into their underground bunker for 21 days, Klynt and her father emerge to discover a world destroyed by violence. They head out for rations but end up separating when Klynt decides to stay back with Jopa, whom they discover all alone. After three days without word from her father, Klynt realizes that something must be wrong and that she must take charge. She sets out with D-39 and Jopa on a journey to find their families and, hopefully, salvation. Latham uses an invented lexicon of delightfully creative and expressive hybrid words—jinglesnap, boomblasts, itchglitchy—to tell this tale of a girl and her dog sticking together through illness, pain, and near-death experiences. This is an appealing story for animal-loving readers seeking a slow-paced, atmospheric adventure story. Human characters read as White by default.
A girl-meets-dog story of hope, perseverance, and survival.
—Kirkus Reviews


Latham (This Poem Is a Nest) melds a dog rescue story with a post-apocalyptic journey in this white-default speculative narrative. Klynt Tovis, 12, lives with her father, Link, on a looganut farm in the Worselands, close to the border of the Wilds. War between the corrupt government of President Vex and the rebel Patriots rages across the country. Dogs have been eradicated as carriers of the deadly BrkX virus and replaced with robos—though those are rare, so Klynt is determined to keep a D-39 robo when it appears at the farm. Soon, D-39 has endeared itself to both Klynt and her neighbor, six-year-old Jopa Tannin. After a lengthy bombardment followed by the disappearance of Klynt's father and Jopa's mother and older sister, Klynt must lead Jopa and D-39 through the war-torn countryside and wilderness to Everlake, a dog refuge in the Wilds where her veterinarian mother lives. Latham invents numerous words ("sparkshine," "quirkface," "hotseason"), imbuing the tale with a whimsical flavor. The palpable isolation Klynt feels will resonate with many readers in the present moment, but any dog lover will appreciate this heartwarming tale of love and perseverance.
—Publishers Weekly