Little Bro, Big Sis (Hardcover)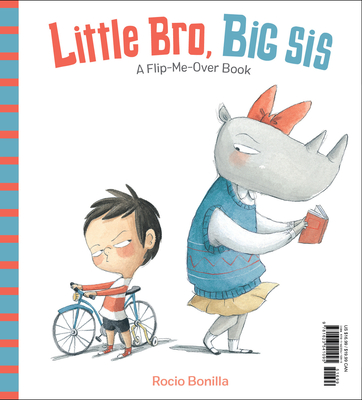 Description
---
Siblings never get to tell their side of the story (or so it seems).

Complete with a unique flip format and Rocio Bonilla's vivacious illustrations that tell each sibling's story, this clever take on sibling rivalry shares two life lessons: sometimes it takes a sibling sharing their side of the story to realize how much they appreciate their other half; and it definitely helps to have someone on your side when a new baby arrives!
About the Author
---
Rocio Bonilla is an author and illustrator. As an illustrator she has published several works in magazines such as El Mueble, Acosta't and Barça Kids, posters and a forty books with various publishers. As an author, she has published five titles, and her work has been translated into several languages. Rocio claims that her three children are her biggest critics and her biggest fans. If she were an animal she'd be a parakeet, and she never gets tired of drawing. She both wrote and illustrated What Color Is a Kiss?
Praise For…
---
In this "flip-me-over" book, one side is from the big sister's perspective and the other side is from the little brother's. In his version, the older sister is depicted as a rhinoceros and a bully. In her version, the little brother is depicted as a monkey who is an annoying pain. But at the end of both stories, each sibling realizes that the other can be fun. The story ends with a twist. The last page shows a screaming baby, and depending on which side, either the brother or sister says, "Now what?" Illustrations and text work well together. For example, in the big sister version, text says, "He thinks he's funny, but he is very annoying." The sister, who is not amused, calmly brushes her teeth. Meanwhile, there are three scenes featuring the brother. He is sitting on the toilet with a scuba mask and snorkel, in another drawing he is wrapped in toilet paper as a mummy, and in another illustration he is in the tub playing wildly with a toy shark and rubber duck. Of course, the other side of the book has text and illustrations that show a very different perspective featuring an annoying sister. The beauty of this title is that there are two picture books in one. The story is lighthearted and fun and will resonate with siblings who can be frenemies. VERDICT Highly recommended for public libraries or preschools. The theme has universal appeal, and children with siblings especially will be able to relate to this story.
—School Library Journal