If You Could Be Mine (CD-Audio)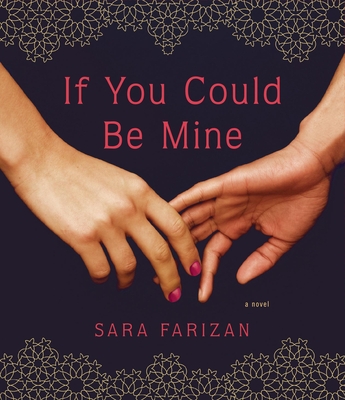 $26.95
Email or call for price.
Description
---
Seventeen-year-old Sahar has been in love with her best friend, Nasrin, since they were six. They've shared stolen kisses and romantic promises. But Iran is a dangerous place for two girls in love—Sahar and Nasrin could be beaten, imprisoned, even executed if their relationship came to light.

So they carry on in secret—until Nasrin's parents announce that they've arranged for her marriage. Nasrin tries to persuade Sahar that they can go on as they have been, only now with new comforts provided by the decent, well-to-do doctor Nasrin will marry. But Sahar dreams of loving Nasrin exclusively—and openly.

Then Sahar discovers what seems like the perfect solution. In Iran, homosexuality may be a crime, but to be a man trapped in a woman's body is seen as nature's mistake, and sex reassignment is legal and accessible. As a man, Sahar could be the one to marry Nasrin. Sahar will never be able to love the one she wants, in the body she wants to be loved in, without risking her life. Is saving her love worth sacrificing her true self?
About the Author
---
Sara Farizan, the daughter of Iranian immigrants, was born in Massachusetts. She is an MFA graduate of Lesley University and holds a BA in film and media studies from American University. Sara grew up feeling different in her private high school, not only because of her ethnicity, but also because of her liking girls romantically, her lack of excitement in science and math, and her love of writing plays and short stories. So she came out of the closet in college, realized math and science weren't so bad (but were not for her), and decided she wanted to be a writer. Sara has been a Hollywood intern, a waitress, a comic book/record store employee, an art magazine blogger, a marketing temp, and an after-school teacher, but above all else she has always been a writer. Sara lives near Boston, loves Kurosawa films, eighties R&B, and graphic novels, and thinks all kids are awesome. She is the acclaimed author of If You Could Be Mine and Tell Me Again How a Crush Should Feel.
NEGIN FARSAD is an actor, comedian and filmmaker who the Huffington Post named one of the 50 Funniest Women. She was recently selected as a TED Fellow (and gave a TED Talk). She has written and performed for MTV, Comedy Central, Nichelodeon, IFC, and PBS among others.
Praise For…
---
"Refreshingly and believably diverse. . . . Each character and relationship is kindly and carefully drawn. . . . A moving and elegant story of first love and family."
—Kirkus Reviews
"Farsad uses crisply clipped syllables and a rolling musicality to evoke the accent of Tehran. This is a moving presentation of a powerful story."
—Booklist
"[A] terrific debut novel. . . . Rich with details of life in contemporary Iran, this is a GLBTQ story that we haven't seen before in YA fiction. Highly recommended."
—School Library Journal
"A winning, timely, and important audio production."
—Publishers Weekly
"A beautiful, compassionate, must-read novel."
—BookPage
"Listeners will gain insight into life as a gay young woman in an unaccepting world, and Sahar's desperation to be with the one she loves is a story with which all can empathize."
—Library Journal