Groundhog's Day Off (Hardcover)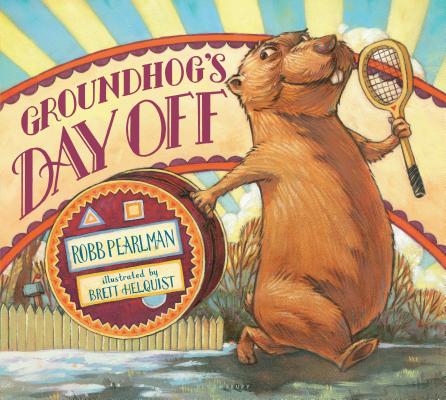 $16.99
Email or call for price.
Description
---
In this humorous Groundhog's Day picture book by the #1 New York Times bestselling author of
The Office: A Day at Dunder Mifflin Elementary, it's the day before the big event . . . and the Groundhog goes on strike.

Every year, people ask Groundhog the same, boring old question. Is spring around the corner? Or are we doomed to more winter? Sure, they care about his shadow, but what about him and his interests? He's had enough! Groundhog packs his bags and sets out for a much-needed vacation.

Now the town is holding auditions to find someone to fill his spot. None of the animals seem right for the job, though. Not Elephant, not Ostrich, and most certainly not Puppy. No one has Groundhog's flair for the dramatic, but is it too late to woo him back into the spotlight?

With a fresh take on a familiar event and bold, lively illustrations, this hilarious picture book will leave readers wishing it was Groundhog's Day year-round.
About the Author
---
Robb Pearlman is the author of two books for children, Leaf Dance and Passover is Here!, as well as many adult books including Fun with Kirk and Spock, 101 Ways to Kill a Zombie, Spoiler Alert!, and Nerd Haiku. He is currently an Associate Publisher at Rizzoli, where he edits pop culture and children's interest books. He lives in northern New Jersey.

www.robbpearlman.com
@msmazeppa
Brett Helquist is the illustrator of many popular books for children.
Praise For…
---
"The personable, furry brown Groundhog divertingly emotes his way through the pages, and the pictures of him brushing his oversize teeth or lounging at the spa provide notes of humor that will amuse both adult readers and young audiences . . . a breath of fresh spring air." - BCCB

"Text and illustrations work in harmony . . . As proven, it's best to avoid offending Groundhog, so add this to the abundant stack of Groundhog Day picture books already available." —Booklist Online

"Pearlman has written an up-to-the minute mashup of American folklore and contemporary culture, expertly abetted by Helquist's knowing illustrations. . . . Enormously fun." —starred review, Publishers Weekly