Bots! Robotics Engineering: With Hands-On Makerspace Activities (Build It Yourself) (Paperback)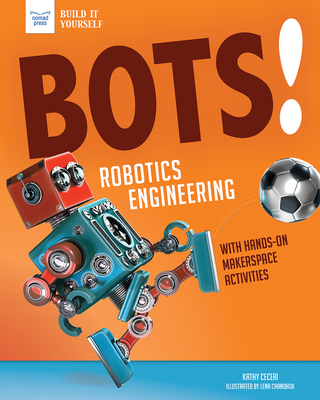 $17.95

In Our Warehouse - Expected arrival in 2-5 days
Description
---
An action-packed book for middle schoolers that explores the roles robots play in our world, including the history, engineering, and key players in this STEAM field--plus loads of hands-on robotics activities so kids can learn design, engineering, and coding, and develop their own innovative ideas for future robots
Robots are everywhere They vacuum our houses, work in our factories, help us learn at school, and play with us at home. They sample rocks from other planets, survey disaster zones from the air, and bring back images from the bottom of the ocean. In Bots Robotics Engineering with Hands-On Makerspace Activities, kids 9 to 12 learn the how, why, and who behind the robots we have today.
- Explore the history of robots and artificial intelligence and read short biographies of important innovators such as Ada Lovelace, Charles Babbage, Alan Turing, Leonardo da Vinci, Dean Kamen, and Nikola Tesla, and Cynthia Breazeal.
- Engage in science-minded learning by constructing a hydraulic arm, formulating an edible inflatable soft robot, designing a motorized ArtBot, and testing your own gravity-powered mini-walker. Learn coding basics by writing pen-and-paper programs in Logo and creating virtual robots in the free online language Scratch. Discover how to build low-cost programmable cardboard robots using microcontrollers such as Micro: bit or Circuit Playground Express and Microsoft MakeCode. And find out how to train an "AI computer" to think by playing an unplugged Machine Learning version of the math game Nim.
- Essential questions, links to online primary resources, fascinating facts and brief sidebars help readers learn the basics of robotics while exploring their creativity as they design and build their own robots and robotic components.
About the Build It Engineering set and Nomad Press
Bots is part of a set of two Build It Engineering books that explore the engineering technology behind our daily lives. The other title in this series is Crazy Contraptions: Build Rube Goldberg Machines that Swoop, Spin, Stack, and Swivel with Hands-On Engineering Activities.
Nomad Press books in the Build It series integrate content with participation. Combining content with inquiry-based projects stimulates learning and makes it active and alive. Nomad's unique approach simultaneously grounds kids in factual knowledge while allowing them the space to be curious, creative, and critical thinkers.
All books are leveled for Guided Reading level and Lexile and align with Common Core State Standards and Next Generation Science Standards. All titles are available in paperback, hardcover, and ebook formats.

About the Author
---
Kathy Ceceri is a STEAM educator and the award-winning author of more than a dozen books of hands-on learning activities for kids and adults, including Robotics: Discover the Science and Technology of the Future and Video Games: Design and Code Your Own Adventure from Nomad Press. Kathy presents low-tech/no-tech engineering workshops for students and teachers at schools, libraries, museums, and makerspaces, and is a popular speaker at Maker Faires around the country. Her other titles include Paper Inventions, Fabric and Fiber Inventions, and Making Simple Robots. Formerly the Homeschooling Expert for About.com, Kathy has two sons, a video game programmer and a filmmaker. Kathy lives in Schuylerville, New York. Lena H. Chandhok earned her degree from the Center for Cartoon Studies in 2011. Her work has been featured in Slate Magazine and in various anthologies. Lena currently lives in Brooklyn, New York.