Robotics!: With 25 Science Projects for Kids (Explore Your World) (Hardcover)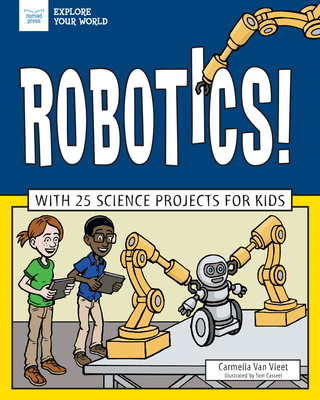 $19.95
Email or call for price.
Description
---
Where was the last time you saw a robot? Did you read about one in a book or see one in a movie? Maybe you saw one in a video game
Some people think robots exist only in our imagination, but actually, robots are all around us right now. Robotics With 25 Science Projects for Kids offers readers ages 7 to 10 an introduction to the history, mechanics, and future use of robots Readers explore the history of robotics and discover how the first types looked and moved and what people expected they could do. Compare these early robots to those we have today, some of which don't even have bodies Kids discover how robots have changed as decades have passed and see how they now look, think, sense, move, and do things.
Robotics
also discusses all the amazing things robots do for us--help us around the house, go into and explore dangerous situations, build our cars and other products, assist during surgeries, and protect and entertain us. Learn all about early robots such as Unimate and Elmer and Elsie, and compare them to modern-day robots Robonaut 2 and ASIMO.
Robotics includes 25 science-minded activities to engage budding scientists, engineers, mathematicians, and artists and help answer the questions, what exactly is a robot and where do they come from? Kids also discover how technology such as computers and other electronics of the last 50 or so years played an important role in the development of modern-day robotics. Requiring little adult supervision and using common, easy-to-find (and often recycled ) materials, kids experiment, play games, and explore components of robotics. They also build a variety of things such as their own automaton, a robot hand, and a replica of Robonaut 2. Combining hands-on fun with interesting facts, cartoons, and sidebars, Robotics provides young readers with a fun introduction to this fascinating and important field.
Robotics is part of a set of two Explore Technology books that introduce young digital natives to the history, science, and engineering of the tech world in which we live, using hands-on STEM activities, essential questions, links to online primary sources and real-life connections. The other title in this series is Simple Machines
Nomad Press books integrate content with participation. Common Core State Standards, the Next Generation Science Standards, and STEM Education all place project-based learning as key building blocks in education. Combining content with inquiry-based projects stimulates learning and makes it active and alive. Nomad's unique approach simultaneously grounds kids in factual knowledge while allowing them the space to be curious, creative, and critical thinkers.
About the Author
---
Carmella Van Vleet is a former elementary school teacher and the award-winning author of more than a dozen books for kids, including Aviation: Cool Women Who Fly;Explore Electricity!;Great Ancient Egypt Projects You Can Build Yourself, from Nomad Press and To The Stars! The First American Woman to Walk in Space (co-authored with astronaut Kathy Sullivan). She lives near Columbus, Ohio. Tom Casteel is an illustrator and cartoonist that graduated from the Center for Cartoon Studies in 2011. He has illustrated more than two dozen books for Nomad Press. He lives in South Bend, Indiana, with his family.