Explore Shapes and Angles!: With 25 Great Projects (Explore Your World) (Paperback)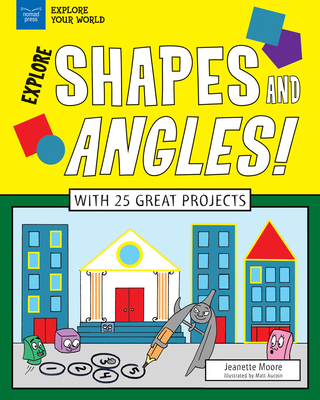 Email or call for price.
Not Available at This Time
Description
---
This book is in the shape of a square. Or is it a rectangle? The pages are 2-dimensional. Or are the pages 3-dimensional? Geometry is all around us In Explore Shapes and Angles With 25 Great Projects, readers ages 7 to 10 will have fun identifying the shapes and angles in their world. They'll also learn how these shapes and angles are used in different situations and in different jobs, such as construction, engineering, and art. A kid's world is made of shapes and angles--by encouraging readers to become savvy at identifying and using the different shapes, this book serves as the perfect introduction to geometry and a way to build a strong foundation in math skills that will serve them well as they are exposed to increasingly more complicated concepts. Hands-on, design-minded projects, such as designing a tree house, offer opportunities to discover how engineers and designers use shapes and angles to create strong structures. Readers are encouraged to use blocks, bodies, and yoga to mimic geometric shapes and find combinations so strong they'll even hold up heavy weights. Links to online resources, fun facts, cartoon illustrations, and compelling content drive this introduction to basic geometry that will help children begin to establish a spatial relationship with real-world math and make it fun.
About the Author
---
Jeanette Moore has been an educator for more than 15 years. She has published several elementary school ELA, history, and mathematics workbooks, has served as a content editor since 2012, and has developed several original mathematics games. Jeanette is a member of National Council of Teachers of Mathematics, Association for Supervision and Curriculum Development, and International Dyslexia Association. Matt Aucoin holds a master's degree in fine art from the Center for Cartoon Studies and teaches drawing to preschool-age children. Matt has illustrated several books for Nomad Press including; Explore Atoms and Molecules!, Explore Predators and Prey!, and Explore Makerspace!