Explore Money! (Explore Your World) (Paperback)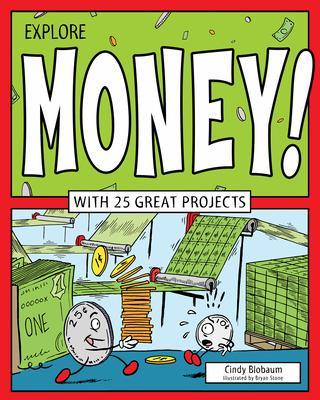 Email or call for price.
Not Available at This Time
Description
---
In Explore Money With 25 Great Projects, money is more than something to earn, save, and spend. It's an opportunity to explore history, art, science, economics, and math While checking out the change in their pockets and bills from their banks, young readers search for hidden treasures, learn how money can multiply, and see how countries keep their currency secure. Very large and very small numbers take on a new relevance when seen through the lens of money.
Using familiar materials found in the home or classroom, young readers explore the cultural aspect of money as well as its physical properties, discovering how these properties have affected business and global relationships throughout history. Kids experiment with various substances to clean coins, scientifically test coin components, design their own currency, and plan how to allocate their own money. Understanding the whats, whys, and hows of currency helps children achieve financial literacy and establish a strong foundation for a healthy, life-long relationship with money.
Explore Money
meets Common Core State Standards for literacy in language arts, and mathematics; Guided Reading Levels and Lexile measurements indicate grade level and text complexity.
About the Author
---
Cindy Blobaum is an educator and naturalist who has written several books for children, including "Explore Night Science!" and "Explore Gravity!" for Nomad Press. She lives in Des Moines, Iowa with her family.

Melanie Gilman is a freelance cartoonist with an MFA from the Center for Cartoon Studies. She lives in Denver, Colorado.
Praise For…
---
Praise for Explore Gravity!

National Science Teachers Association
Are you looking for projects about gravity that are equally interactive as well as instructive? Explore Gravity! is sure to be one of the more popular science books in your class."

Marla Conn, Educational Consultant
Explore Gravity! provides endless opportunities for students to make text-to-text, text-to-self, and text-to-world connections! The great flow of ideas and activities incorporate the cross-curriculum subject areas of STEM, offering many opportunities for teachers and parents to expand and do more."

Roger Blandford, Professor of Physics, Stanford University
Explore Gravity! should excite the curiosity of young scientists and help them understand one of the great mysteries of physics."

Praise for Explore Night Science!

Rebecca E. Clark, State Park Naturalist
A great book for teaching families about the nighttime world! Fun, educational activities reinforce the information in each section. I highly recommend this book to parents and educators of elementary age children."

Heidi Anderson, Conservation Naturalist
Explore Night Science! is a wonderful resource for naturalists, teachers, and parents. Experiments require few materials and reinforce the concepts. I can't wait to try out some of these experiments on my next night hike!"

School Library Journal
Information on what happens at night, nocturnal animal adaptations, and fun facts such as the reason that pirates wear eye patches will keep kids interested. This one will be worth staying up past bedtime for."