Unholy Land (Paperback)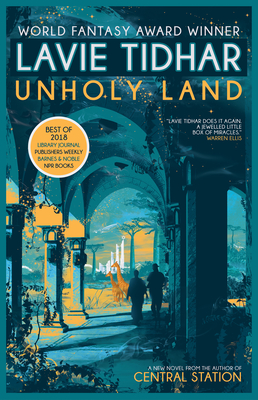 Email or call for price.
Not Available at This Time
Description
---
Selected as a Best Book of 2018 by NPR Books, Library Journal, Publishers Weekly, and the UK Guardian. From the bestselling author of Central Station comes an extraordinary new novel recalling China Mi ville and Michael Chabon, entertaining and subversive in equal measures. Lior Tirosh is a semi-successful author of pulp fiction, an inadvertent time traveler, and an ongoing source of disappointment to his father. Tirosh has returned to his homeland in East Africa. But Palestina--a Jewish state founded in the early 20th century--has grown dangerous. Unrest in Ararat City is growing; the government is building a vast border wall to keep out African refugees. Tirosh has become state security officer Bloom's prime murder suspect, while rogue agent Nur stalks them through transdimensional rifts--possible futures to prevented only by avoiding the mistakes of the past.
About the Author
---
Lavie Tidhar (The Bookman; A Man Lies Dreaming; The Violent Century) is the author of the breakout Campbell and Neukom award-winning novel Central Station, which has been translated into ten languages. He has also received the British Science Fiction, Neukom Literary, and World Fantasy awards. Tidhar was born in Israel, grew up on a kibbutz, has lived in South Africa, Laos, and Vanuatu, and currently resides in London.