Chickenology: The Ultimate Encyclopedia (The Farm Animal Series) (Hardcover)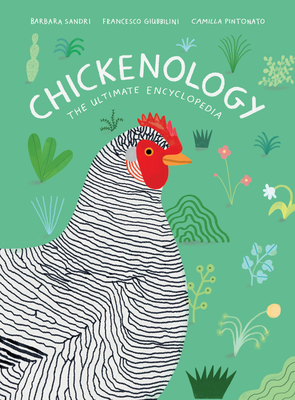 $19.95

In Our Warehouse - Expected arrival in 2-5 days
Description
---
2022 American Association for the Advancement of Science (AAAS) Prize for Excellence in Science Books finalist, Children's Science Picture Book category

2021 Premier Anderson Award winner, Best Nonfiction category

"[Chickenology] has found a prominent place at my farm in the book shelf where we keep our favorites books"— Isabella Rossellini

Chickenology takes young readers on a fascinating and informative tour of chickens. With a playful tone and irresistibly charming illustrations by rising star Camilla Pintonato, this lively visual encyclopedia presents chickens in all of their feathered glory. Discover the incredible variety of chickens with different origins, breeds, and feather patterns. Learn incredible facts: did you know that chickens can learn to count up to four and have excellent hearing? Many even like to listen to music!

A great educational book, covering:
• Different breeds of chickens, like Padovana and Silkie
• The difference between roosters and hens
• How chicks are formed in the egg
• Chickens sounds and noises
• Chicken anatomy and feather anatomy and colors
• Chickens and eggs around the world
• Chicken history and folklore
• Raising chickens at home
• Chickens as pets

Chickenology is the perfect animal book for nature and animal loving young readers, chicken enthusiasts, chicken farmers, and pet chicken owners alike!

"Prepare to be fascinated by the varied world of chickens, presented here in charming detail....Endearingly dubbing chickens 'irresistible companions,' this educational overview of all things chicken is bound to hatch some new enthusiasts."—ALA/Booklist, STARRED REVIEW
About the Author
---
Barbara Sandri is an environmental activist and a pioneer of backyard chicken keeping. Her chickens are named Guerra, Pace, Traita, Rina, Ciuffina, Pitta, and Beppa. Sandri is based in Livorno, Italy.

Francesco Giubbilini combined his passion for communication and backyard chicken keeping by founding, together with Barbara Sandri, the first Italian website dedicated to chickens and eggs, Everything about Chickens (www.tuttosullegalline.it). Giubbilini is based in Livorno, Italy.

Camilla Pintonato is an author, illustrator, and graphic designer based in Venice, Italy. She studied illustration at Mimaster in Milan and completed her master's degree in editorial design at ISIA in Urbino. Her books include Full Moon, Detective Mole, and the forthcoming title Pigology.
Praise For…
---
"[A]n ode to the real fluffy fondness human have for this farm animal....From the egg first or chicken first debate, to feathers, to how they clean themselves, to different breeds, the information is engaging, thoughtful and beautifully illustrated."
-
Geek Dad
,
"If you've ever wondered about chickens or their eggs--perhaps which came first--this introduction is a good place to start....The clean and colorful illustrations, featuring neatly labeled diagrams and infographics and creative, occasionally whimsical drawings, are a good match for the straightforward text."
— The Horn Book Guide
,
"A fun and beautiful gift for kids with chicken coops, or those who just want to learn more about where their food comes from....This book so artistically conveys the beauty of chickens and eggs throughout - from the wall-worthy end papers to the double-page layouts of maps and diagrams."
-That' s It LA,
"Learn everything you need to know about the fast-growing hobby of backyard-chicken ownership with this fun and informative encyclopedia. You'll learn about chicken origins, breeds, and anatomy, as well as the basics of chicken care through colorful illustrations."
- Colorado Parent,
"Prepare to be fascinated by the varied world of chickens, presented here in charming detail....Endearingly dubbing chickens "irresistible companions," this educational overview of all things chicken is bound to hatch some new enthusiasts."
- ALA Booklist (STARRED REVIEW)
"Authors Sandri and Giubbilini provide a comprehensive and charming introduction to some of humanity's feathered friends, complete with 71 fully illustrated pages of all things chicken and egg, courtesy of illustrator Pintonato. The trio takes readers through the 5,000-year history of the chicken-human relationship, the spectrum of breeds alive today, and even the question of 'the chicken and the egg.'"
- Kirkus Reviews
"Chickenology is such a unique and engaging way to learn about all things chicken - who knew there was so much to learn about these birds! I can't wait to share these books with my students."
- Summer Reimer, Librarian
"This introductory book contains everything you ever wanted to know about chickens and probably a lot more too. There are five sections (listed on contents page but not mentioned thereafter) into which is packed an incredible amount of information presented in a highly readable manner with well-designed, stylishly illustrated spreads, every one of which has just the right amount of text so that at no time does the reader feel overwhelmed."
- Red Reading Hub,
"Did you know that roosters dance for hens affection? What about the importance of having a perch inside a henhouse? What about the difference between an Araucana and a Silkie chicken? If you sit around blissfully dreaming of the garden compost that chickens will provide for you, or spend your time online looking for hen therapy programs, Chickenology is the book for you."
- The Tiny Activist,
"Which came first, the chicken or the egg?
Chickenology: The Ultimate Encyclopedia
provides a definitive answer to this age-old question (the egg!). Brimming with delightful illustrations...it is packed with engaging details."
-
Science
,