The Show Must Go On! (Three-Ring Rascals) (Hardcover)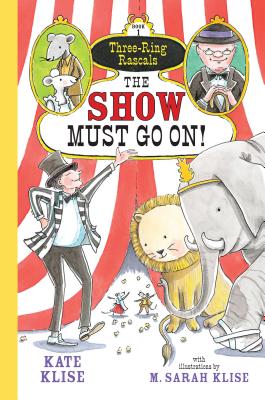 $15.95
Email or call for price.
Other Books in Series
This is book number 1 in the Three-Ring Rascals series.
Description
---
In their trademark style, author Kate Klise and illustrator M. Sarah Klise blend a story bursting with jokes, puns, and wordplay with illustrations, signs, letters, recipes, and bold graphics to introduce Three-Ring Rascals.

When Sir Sidney, a kindly old circus owner, becomes too tired to travel with his show, he places a Help Wanted ad in the newspaper. Enter Barnabas Brambles: "I have a degree in lion taming from the University of Piccadilly Circus." But does Leo the lion need taming? Will Elsa the elephant still get her gourmet peanuts? And what will Brambles say when he discovers Bert and Gert—two mice who travel with the circus on popcorn cleanup patrol?

Brambles has big plans: More cities! More shows! No more free popcorn. Soon he's made a big mess of Sir Sidney's Circus, but Leo, Elsa, Bert, Gert, and the rest of the performers agree: The Show Must Go On!

Black and white line drawings throughout.
About the Author
---
Kate Klise and M. Sarah Klise have collaborated on numerous award-winning middle-grade and picture-book projects, including the Regarding the Fountain and 43 Old Cemetery Road series. Kate lives in Norwood, Missouri. She visits more than seventy school classrooms a year. Sarah Klise lives in Berkeley, California. Visit www.kateandsarahklise.com for more information. (By the way, Klise rhymes with mice.)
Illustrator M. Sarah Klise and author Kate Klise and are sisters and collaborators. They started making books together many years ago in their bedroom in Peoria, Illinois. Kate wrote the words; Sarah drew the pictures. Their first book was about an adventure-loving little mouse that traveled around the country. That story was never published. (In fact, it ended up in the garbage can!) But the Klise sisters had so much fun making their first book, they kept writing and drawing. And now they've published more than twenty award-winning books for young readers, including Regarding the Fountain and Dying to Meet You. The Klise sisters no longer share a bedroom. Kate lives in Missouri and travels often to visit schools and libraries. Sarah lives in California. But the two sisters still enjoy working together, especially on their new series about a pair of circus mice. (By the way, "Klise" rhymes with "mice.")
Praise For…
---
"Entertaining . . . Most children will agree the book is 'smafunderful (smart + fun + wonderful).'" --Kirkus Reviews

"[A] sweetly nutty kickoff to the Klise sisters' Three Ring Rascals series. Cartoon spot illustrations play up the comical mood . . . in this free-spirited story that concludes with a lesson in kindness and a promise of more fun to come." --Publishers Weekly

"Beginning chapter-book readers will thoroughly enjoy this fun and fast-paced title, which has lessons in kindness along the way." --School Library Journal

"The Klises maintain a light touch with the messaging, giving the book a comforting thematic unity around the importance of kindness; and humor is apparent in every detail, from the smallest conversational exchanges to the extravagantly silly set pieces that mark the book's major plot points. Readers will eagerly await the next volume of over-the-(big)-top hijinks." --The Horn Book Magazine