Larry Bond's Red Dragon Rising: Shadows of War (Compact Disc)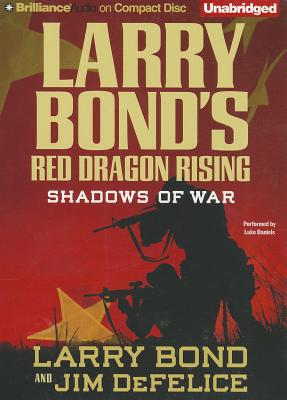 $19.99
Email or call for price.
Other Books in Series
This is book number 1 in the Red Dragon series.
Description
---
In the not-too-distant future, massive climate change has wracked the globe. China's rice-growing regions have been devastated by typhoons, while its western breadbasket is suffering from three years of drought. Riots threaten to tear the country apart. With the old-guard Chinese government paralyzed by the crisis, a young, charismatic party leader steps to the fore. His solution to the unrest is a time-tested one--conquest of China's neighbors.
And after that, the world.
Josh MacArthur, a mild-mannered American scientist studying climate change in northern Vietnam, is the only witness to a clever attempt by the Chinese to make it appear that Vietnam started the war. Escaping a massacre, he manages to gather critical evidence that could turn world opinion against China.
Unfortunately, the Chinese learn of MacArthur's survival, and of the information he carries. A former Ch'an fighting monk turned commando is sent to capture him. Mara Duncan, a CIA agent, is also on MacArthur's trail. The American scientist has become the subject of a deadly race in the jungles of northern Vietnam, with the fate of the world in his hands.