Aftershock: A Donovan Nash Novel (Paperback)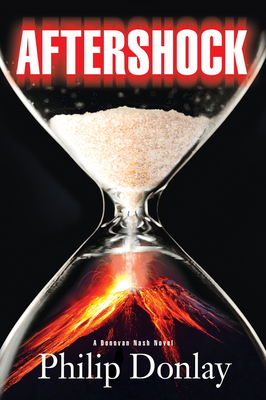 Email or call for price.
Not Available at This Time
Description
---
Best-Selling and Award-Winning Author

Earthquakes, poisonous gas, lava flows—Donovan Nash flies headlong into a volcanic nightmare

The flames of Donovan Nash's worst nightmare are fanned to life when Stephanie VanGelder, one of those closest to him, is kidnapped in the volcanic powder keg of a lawless Guatemala. With help from his inner circle that includes his estranged wife, Dr. Lauren McKenna, Donovan races headlong into the world of corruption and deception. Battling the kidnappers, as well as the deadly gas and lava from the impending eruption of a volcano, Donovan only has one chance to save Stephanie.

Amid earthquakes, volcanic ash, and lava from the eruption, the rescue goes horribly wrong, and Donovan is forced to find a way for everyone, including a mysterious woman who holds the secrets to his past, to escape one of the most powerful forces on earth.

Aftershock is the story of Donovan Nash, a man battling his torturous past, while struggling to survive the volcano along with those who matter most to him. In the face of impending death, Donovan must garner the courage to endure a shocking revelation he's sought for decades―a truth that will change him forever.

Perfect for fans of David Baldacci and Daniel Silva

While all of the novels in the Donovan Nash Series stand on their own and can be read in any order, the publication sequence is:

Category Five
Code Black
Zero Separation
Deadly Echoes
Aftershock
Pegasus Down
Seconds to Midnight
Speed the Dawn
About the Author
---
Best-selling author Philip Donlay has been a flight instructor, flown a private jet for a Saudi prince, and a corporate jet for a Fortune 500 company. His travels have taken him to over forty countries on five continents. He divides his time between Montana and the Pacific Northwest. Aftershock is his fifth thriller in the Donovan Nash Series following Category Five, Code Black, Zero Separation, Deadly Echoes and preceding Pegasus Down, Seconds to Midnight, and Speed the Dawn.
Praise For…
---
"The action races to a shoot-out on the shores of Lake Atitlán and a desperate flight through a volcanic eruption as Mt. Atitlán rips itself apart. Donlay keeps things moving too fast for readers to get bored . . ." —
Publishers Weekly
"This personal angle gives the story an emotional core, and a rumbling volcano sets the time clock on suspense and leads to a frantic turning of pages." —Booklist
"The action ping-pongs back and forth as Nash's rescue and McKenna's investigation proceed—until events collide as the volcano erupts." —Suspense Magazine
"Donovan Nash is back—and is he ever! Tense action, crisp dialog, and cool high-tech toys drive the story. Oh, and there's even an erupting volcano." —D. P. Lyle, best-selling and award-winning author
Praise for the Donovan Nash Series
"A heart-thumping ride that steams along, bringing our flawed world into pristine focus. Lots of mischief and mayhem, the characters fraught with danger, the plot hitting all the right notes." —Steve Berry,
New York Times
best-selling author
"Authors like Philip Donlay, who write the pure thrillers, have capabilities and strength I can only envy." —William Kent Krueger,
New York Times
best-selling author
"A commanding thriller by a superb author." —Grant Blackwood,
New York Times
best-selling author
"Well researched and supremely entertaining, Philip Donlay has knocked this one out of the park!" —Ward Larsen,
USA Today
best-selling author​​​