Fly By Wire: A Jammer Davis Thriller (Paperback)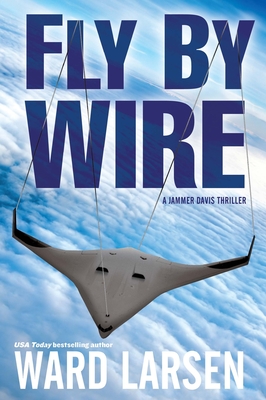 $16.00
In Our Warehouse - Expected arrival in 2-5 days
Other Books in Series
This is book number 1 in the A Jammer Davis Thriller series.
Description
---
USA Today best-selling author

Winner of the Benjamin Franklin Award Silver Medal

The C-500 with its revolutionary fly-by-wire technology, had become the freight airframe of choice—until a routine delivery goes horribly wrong

Falling like a stone from six miles up, a brand-new C-500 crashes in central France, killing two pilots aboard. With over one hundred C-500s in service around the world, interest is keen to get to the bottom of the mystery. When French officials take over this highly public investigation, they call in the best there is: they call Frank "Jammer" Davis.

A retired U.S. Air Force fighter pilot, Davis is part of the NTSB's "go team." With a reputation for getting things done—and for steamrolling anyone who gets in his way—Davis starts to dig.

But just as Davis starts his investigation, news of the crash is overshadowed by a more spectacular disaster: suicide bombers attack oil refineries across the world, sending governments and financial markets into a tailspin.

A relentless Davis keeps working, but when he finally uncovers the cause of the crash, and its terrifying connection to the terrorist attacks, it is a conspiracy of unthinkable proportions.

A conspiracy he might not be able to stop.

Perfect for fans of Nelson DeMille, Tom Clancy, and Michael Creighton

While all of the novels in the Jammer Davis Series stand on their own and can be read in any order, the publication sequence is:

Fly by Wire
Fly by Night
Passenger 19
About the Author
---
Ward Larsen is a USA Today best-selling author and three-time winner of the Florida Book Award. His work has been nominated for both the Edgar and Macavity Awards. A former US Air Force fighter pilot, Larsen flew more than twenty missions in Operation Desert Storm. He also served as a federal law enforcement officer and is a trained aircraft accident investigator. Look for Amber Entertainment's film adaptation of Larsen's first thriller, The Perfect Assassin. His other novels include Stealing Trinity, Fly by Night, and Passenger 19.
Praise For…
---
"I love thriller authors who live what they write about. Ward Larsen is an airline captain who also flew combat missions and worked on aircraft accident investigations. In Fly By Wire, he brings his expert background to a gripping, entertaining, informative thriller that feels authentic on every page." ―David Morrell, New York Times best-selling author

"Larsen is fast becoming a thriller writer to watch. He clearly knows his subject matter and has a knack for writing about technology without it getting in the way of the story or the characters. Fans of the aviation thrillers of John Nance and of Michael Crichton's Airframe (1996) will find much to enjoy here." ―Booklist

"Fly By Wire combines the complexities of aircraft technology, international conspiracies, terrorism, oil shortages, falling financial markets, and a father's love for his teenage daughter with an ease that is breathtaking." ―Mystery Scene Magazine

"The descriptions of the crash scene and of Jammer's investigative work are masterfully done, and there is a superb fight scene or two with Jammer and cohorts." ―Sacramento Book Review/San Francisco Book Review

Praise for the Jammer Davis Series

"Larsen, a former Air Force fighter pilot who's flown many combat missions, is a skilled writer who knows his technology, but does not let it overwhelm his story. His latest [Fly By Night] is a solid action novel that will appeal to aviation thriller junkies who enjoy John J. Nance and Dana Haynes." ―Library Journal

"The threads of a sinister conspiracy corrupting the United States government entangle this tense mystery [Passenger 19], highly recommended especially for connoisseurs of the genre." —Midwest Book Review