More True Facts That Sound Like Bull$#*t: 500 More Insane-But-True Facts to Rattle Your Brain (Fun Facts, Amazing Statistic, Humor Gift, Gift Books) (Mind-Blowing True Facts #2) (Paperback)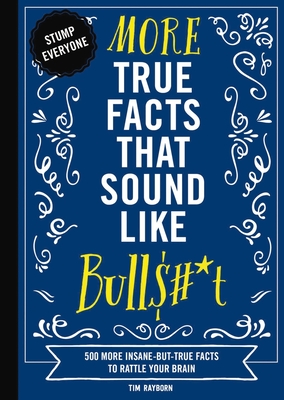 $12.95

In Our Warehouse - Expected arrival in 2-5 days
Description
---
From cubed wombat poop to mantis shrimp eyesight, impress your friends with More True Facts That Sound Like Bull$#*t!

Learn the weirdest things about planet earth with this hilarious guide to all things bizarre. Challenge your friends, puzzle your family, and troll social media with true-or-false questions sure to stump even the most experienced fact guru. The perfect gift for trivia experts and internet searchers alike, with 500 odd-but-true facts to choose from, you'll become a weird trivia master in no time.

Put your game face on, and prove once again that you are the real know-it-all! Gather your friends and family 'round (again!) and get ready to learn more wild and crazy trivia and facts such as:

- How long did the shortest war in history last?
- True or False? There was once a mustache strike in France.
- Are babies born crying with an accent?
- True or False? a dentist invented cotton candy.
- Is cheese the most widely shoplifted food in the world?

Stump everyone with More True Facts That Sound Like Bull$#*t!
About the Author
---
Tim Rayborn has written a large number of books and magazine articles, especially in subjects such as music, the arts, general knowledge, and history. He lived in England for many years and studied at the University of Leeds, which means he likes to pretend that he knows what he's talking about. He's an almost-famous musician who plays dozens of unusual instruments from all over the world that most people have never heard of and usually can't pronounce. He has appeared on more than forty recordings, and his musical wanderings and tours have taken him across the US, all over Europe, to Canada and Australia, and to such romantic locations as Umbria, Marrakech, Renaissance chateaux, medieval churches, and high school gymnasiums. He currently lives in Northern California with many books, recordings, and instruments, and a sometimes-demanding cat. He's pretty enthusiastic about good wines and cooking excellent food. www.timrayborn.com