Secret Agent Jack Stalwart: Book 13: The Hunt for the Yeti Skull: Nepal (The Secret Agent Jack Stalwart Series #13) (Paperback)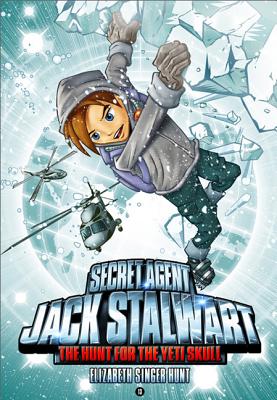 Description
---
The Hunt for the Yeti Skull (Book 13) Jack has become the most decorated secret agent for the Global Protection Force, but during the day he's still just an ordinary kid who has to put up with annoying people -- like Marko Mayer, a new student in Jack's rock-climbing class. When Jack and Marko race to the top of the wall, Marko stomps on Jack's hand and wins -- then has the nerve to gloat! But Jack has no time to sulk -- the GPF needs him in Nepal. A plane carrying a team of scientists has gone missing over Mount Everest. They were thought to be carrying the first true Yeti skull ever recovered -- proof that the legendary Abominable Snowman really existed. Jack quickly discovers that a greedy collector is behind the theft -- and he may have hired Jack's archnemesis for the job. Can Jack and his fellow agents use their climbing skills to brave the highest mountain on earth and recover the priceless skull?
About the Author
---
Elizabeth Singer Hunt is best known as the award-winning author of the Secret Agent Jack Stalwart chapter book series for younger readers. The fourteen-book series has been named a 'must read' for boys by the British Education Secretary, serialized by BBC Radio, and featured on Virgin Atlantic Airways' international flights.

Elizabeth lives in California with her husband and two children, and is an advocate for the Eco-Soap Bank, a public health nonprofit working to save lives in rural Cambodia.
Praise For…
---
VOYA (Voice of Youth Advocates), February 2012
"Each book in the series is a quick read with plenty of action and, most importantly, lots of information about history…Nonetheless, the educational purpose of the books does not take too much away from Jack's adventures…Best of all, throughout the series, the young characters come out on top, which is always fun to read."