For Young Men Only: A Guys Guide to the Alien Gender (CD-Audio)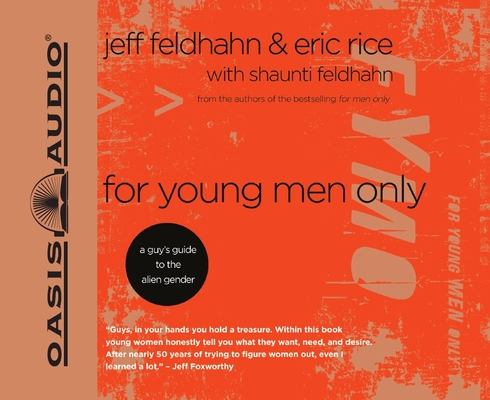 $19.99
Email or call for price.
Description
---
Based on a national survey of hundreds of teenage girls, Jeff Feldhahn and Eric Rice give young men insight into the hearts and minds of teen girls while opening the way to healthier relationships between guys and girls, both now and in their future.
About the Author
---
Jeff Feldhahn is an attorney by training and an entrepreneur by inclination. He received his law degree from Harvard and has worked at law firms in New York and Atlanta specializing in corporate law and nonprofit organizations. Jeff is the president and CEO of World2one, a tech company that he helped found in 1999. He is also a founding partner at FSB Legal Services, a unique partnership of high-skill, independent, entrepreneurial attorneys who enjoy the challenge of working as a "virtual law firm" for major corporate clients. Jeff and and his wife, Shaunti, are active leaders in their church, and lead a small group for married couples. They make their home in Atlanta with their two young children.

Eric Rice is the owner/director/producer of 44 Films. Eric lives in Atlanta area with his wife, Lisa, and their four teenage children.
Praise For…
---
"The authors interviewed or surveyed over a thousand teenage girls to understand how they think about and relate to boys. They distilled their findings into six surprising truths that will help young men understand teenage girls better, feel more confident in relating to them, and recover more quickly when their relationships are painful or frustrating. Kelly Dolan's outstanding performance reaches out to teenage boys without sounding like he's trying too hard or talking down to them. Toning down the book's social science and Christian foundations with his own boyishness, he is the perfect choice to deliver these stabilizing insights and suggestions. This is an outstanding collection of guidance and reassurance that all boys and girls entering the teen years should hear." 
T.W.  © AudioFile Portland, Maine