Bash Bash Revolution (Paperback)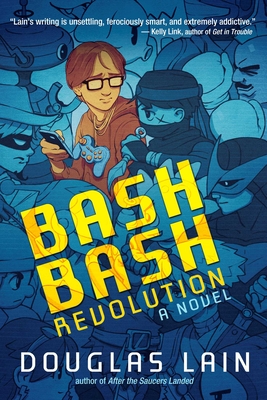 $14.99

In Our Warehouse - Expected arrival in 2-5 days
Description
---
*SELECTED FOR GAME INFORMER'S FALL 2018 READING LIST*

A compelling coming-of-age artificial intelligence novel from Philip K. Dick Award-nominated author Douglas Lain.

Seventeen-year-old Matthew Munson is ranked thirteenth in the state in Bash Bash Revolution, an outdated video game from 2002 that, in 2017, is still getting tournament play. He's a high school dropout who still lives at home with his mom, doing little but gaming and moping. That is, until Matthew's dad turns up again.

Jeffrey Munson is a computer geek who'd left home eight years earlier to work on a top secret military project. Jeff has been a sporadic presence in Matthew's life, and much to his son's displeasure insists on bonding over video games. The two start entering local tournaments together, where Jeff shows astonishing aptitude for Bash Bash Revolution in particular.

Then, as abruptly as he appeared, Matthew's father disappears again, just as he was beginning to let Jeff back into his life.

The betrayal is life-shattering, and Matthew decides to give chase, in the process discovering the true nature of the government-sponsored artificial intelligence program his father has been involved in. Told as a series of conversations between Matthew and his father's artificial intelligence program, Bash Bash Revolution is a wildly original novel of apocalypse and revolution, as well as a poignant story of broken family.
About the Author
---
Douglas Lain is the author of Billy Moonand After the Saucers Landed, the editor of two speculative fiction anthologies,In the Shadow of the Towersand Deserts of Fire, and the publisher of Zero Books, which specializes in philosophy and political theory. He hosts the Zero Squared podcast, interviewing a wide range of fascinating and engaging people with insights for the new millennium. Lain lives in Portland, Oregon, with his wife and children.
Praise For…
---
Praise for Bash Bash Revolution

"A new gaming novel Bash Bash Revolution, is in some ways the antithesis to Ready Player One, even imagining how artificial intelligence could work against capitalist production." —The Guardian

"A fun read; that is, until you close the book and start thinking about its implications. This is not a cartoonish sketch: it is a realistic and bleak look at the post-singularity world. An easy suggestion for fans of current, accessible science fiction that thoughtfully contemplates AI such as Cline's Ready Player One or Cargill's Sea of Rust, but it is also a great choice for those who enjoy John Scalzi's narrative style." —Booklist, starred review

"A page-turner with a strong philosophical bent, Bash Bash Revolution is up there with some of the best VR-influenced sci-fi of the past thirty years and will sit comfortably with works like Snow Crash and Ready Player One on any reader's bookshelf, virtual or otherwise, for years to come."—Small Press Reviews

"Though it tangles with thorny and extremely current issues, both technological and philosophical, Bash Bash Revolution is, ultimately, about human beings. It's unsettling and thought-provoking, a fast-paced coming-of-age story for a digital era in which we're no longer sure what growing up means."—B&N Sci-Fi & Fantasy Blog

"A very enjoyable, thought provoking, and page turning read . . . Fans of unique Artificial Intelligences and the singularity will find this one a must read, as well as science fiction readers who want some current social commentary." —Signal Horizon

"Bearing similarities to M.T. Anderson's Feed, this timely novel explores the affordances and pitfalls of connecting and changing the world with technology."—School Library Journal

"A fascinating mash-up of philosophy and video game culture. The kind of book that will stick with you long after you put it down." —A.C. Wise, author of The Kissing Booth Girl and Other Stories

"Hip, intelligent and utterly addictive. Strap in for a wild ride."—Gareth L. Powell, author of Ack-Ack Macaque and Embers of War

"A sharp shell of inventive geeky goodness around a devastatingly human core."—Suzanne Palmer

Praise for Douglas Lain

"Douglas Lain has a great brain. I am hugely impressed with his prospects..."
—Jonathan Lethem, New York Times bestselling author

"Lain's writing is unsettling, ferociously smart, and extremely addictive."
—Kelly Link, author of Get in Trouble and Magic for Beginners

"I don't know anyone else doing quite what Lain is doing; fascinating work, moving, strikingly honest, powerful."
—Locus

Praise for Bash Bash Revolution

"A new gaming novel Bash Bash Revolution, is in some ways the antithesis to Ready Player One, even imagining how artificial intelligence could work against capitalist production." —The Guardian

"A fun read; that is, until you close the book and start thinking about its implications. This is not a cartoonish sketch: it is a realistic and bleak look at the post-singularity world. An easy suggestion for fans of current, accessible science fiction that thoughtfully contemplates AI such as Cline's Ready Player One or Cargill's Sea of Rust, but it is also a great choice for those who enjoy John Scalzi's narrative style." —Booklist, starred review

"A page-turner with a strong philosophical bent, Bash Bash Revolution is up there with some of the best VR-influenced sci-fi of the past thirty years and will sit comfortably with works like Snow Crash and Ready Player One on any reader's bookshelf, virtual or otherwise, for years to come."—Small Press Reviews

"Though it tangles with thorny and extremely current issues, both technological and philosophical, Bash Bash Revolution is, ultimately, about human beings. It's unsettling and thought-provoking, a fast-paced coming-of-age story for a digital era in which we're no longer sure what growing up means."—B&N Sci-Fi & Fantasy Blog

"A very enjoyable, thought provoking, and page turning read . . . Fans of unique Artificial Intelligences and the singularity will find this one a must read, as well as science fiction readers who want some current social commentary." —Signal Horizon

"Bearing similarities to M.T. Anderson's Feed, this timely novel explores the affordances and pitfalls of connecting and changing the world with technology."—School Library Journal

"A fascinating mash-up of philosophy and video game culture. The kind of book that will stick with you long after you put it down." —A.C. Wise, author of The Kissing Booth Girl and Other Stories

"Hip, intelligent and utterly addictive. Strap in for a wild ride."—Gareth L. Powell, author of Ack-Ack Macaque and Embers of War

"A sharp shell of inventive geeky goodness around a devastatingly human core."—Suzanne Palmer

Praise for Douglas Lain

"Douglas Lain has a great brain. I am hugely impressed with his prospects..."
—Jonathan Lethem, New York Times bestselling author

"Lain's writing is unsettling, ferociously smart, and extremely addictive."
—Kelly Link, author of Get in Trouble and Magic for Beginners

"I don't know anyone else doing quite what Lain is doing; fascinating work, moving, strikingly honest, powerful."
—Locus