The Best Horror of the Year, Volume Six (Paperback)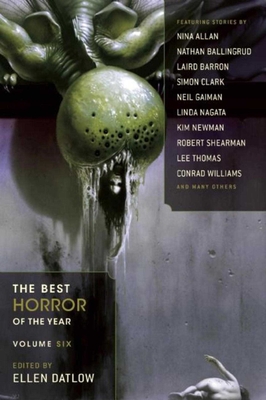 $15.99
Email or call for price.
Description
---
"The oldest and strongest emotion of mankind is fear, and the oldest and strongest kind of fear is fear of the unknown."
—H. P. Lovecraft

This statement was true when H. P. Lovecraft first wrote it at the beginning of the twentieth century, and it remains true at the beginning of the twenty-first century. The only thing that has changed is what is unknown.

With each passing year, science, technology, and the march of time shine light into the craggy corners of the universe, making the fears of an earlier generation seem quaint. But this "light" creates its own shadows. The Best Horror of the Year, edited by Ellen Datlow, chronicles these shifting shadows. It is a catalog of terror, fear, and unpleasantness, as articulated by today's most challenging and exciting writers.

The best horror writers of today do the same thing that horror writers of a hundred years ago did. They tell good stories—stories that scare us. And when these writers tell really good stories that really scare us, Ellen Datlow notices. She's been noticing for more than a quarter century. For twenty-one years, she coedited The Year's Best Fantasy and Horror, and for the last six years, she's edited this series. In addition to this monumental cataloging of the best, she has edited hundreds of other horror anthologies and won numerous awards, including the Hugo, Bram Stoker, and World Fantasy awards.

More than any other editor or critic, Ellen Datlow has charted the shadowy abyss of horror fiction. Join her on this journey into the dark parts of the human heart . . . either for the first time . . . or once again.

Skyhorse Publishing, under our Night Shade and Talos imprints, is proud to publish a broad range of titles for readers interested in science fiction (space opera, time travel, hard SF, alien invasion, near-future dystopia), fantasy (grimdark, sword and sorcery, contemporary urban fantasy, steampunk, alternative history), and horror (zombies, vampires, and the occult and supernatural), and much more. While not every title we publish becomes a New York Times bestseller, a national bestseller, or a Hugo or Nebula award-winner, we are committed to publishing quality books from a diverse group of authors.
About the Author
---
Ellen Datlow has been editing science fiction, fantasy, and horror short fiction for more than thirty years. She was the fiction editor of Omni magazine and Sci Fiction and has edited more than fifty anthologies. Datlow has also won lifetime achievement awards from three prominent genre organizations, and currently acquires short fiction for Tor.com.
Praise For…
---
Praise for Ellen Datlow and The Best Horror of the Year Series:

"Award-winning editor Ellen Datlow has assembled a tasty collection of twenty one terrifying and unsettling treats. In addition to providing excellent fiction to read, this is the perfect book for discovering new authors and enriching your life through short fiction."—Kirkus Reviews

"For more than three decades, Ellen Datlow has been at the center of horror. Bringing you the most frightening and terrifying stories, Datlow always has her finger on the pulse of what horror fans crave. . . . and the anthologies just keep getting better and better. She's an icon in the industry."—Signal Horizon

"Datlow's The Best Horror of the Year series is one of the best investments you can make in short fiction. The current volume is no exception."—Adventures Fantastic

"As usual, Datlow delivers what she promises, 'the best horror of the year,' whether it's written by the famous (Neil Gaiman) or the should-be famous (Laird Barron and many others)."
—Washington Post

"You just can't have a list of recommended speculative anthologies without including an Ellen Datlow anthology. It's. Not. Possible. The line-up in The Best Horror of the Year Volume Eight is absolutely stupendous, featuring the most frighteningly talented authors in horror fiction."—Tor.com

"Once again, [Ellen Datlow supplies] an invaluable book, featuring excellent short fiction and, in addition, providing as always precious information about what happened in the horror field last year."—Mario Guslandi, British Fantasy Society

Praise for Ellen Datlow and The Best Horror of the Year Series:

"Award-winning editor Ellen Datlow has assembled a tasty collection of twenty one terrifying and unsettling treats. In addition to providing excellent fiction to read, this is the perfect book for discovering new authors and enriching your life through short fiction."—Kirkus Reviews

"For more than three decades, Ellen Datlow has been at the center of horror. Bringing you the most frightening and terrifying stories, Datlow always has her finger on the pulse of what horror fans crave. . . . and the anthologies just keep getting better and better. She's an icon in the industry."—Signal Horizon

"Datlow's The Best Horror of the Year series is one of the best investments you can make in short fiction. The current volume is no exception."—Adventures Fantastic

"As usual, Datlow delivers what she promises, 'the best horror of the year,' whether it's written by the famous (Neil Gaiman) or the should-be famous (Laird Barron and many others)."
—Washington Post

"You just can't have a list of recommended speculative anthologies without including an Ellen Datlow anthology. It's. Not. Possible. The line-up in The Best Horror of the Year Volume Eight is absolutely stupendous, featuring the most frighteningly talented authors in horror fiction."—Tor.com

"Once again, [Ellen Datlow supplies] an invaluable book, featuring excellent short fiction and, in addition, providing as always precious information about what happened in the horror field last year."—Mario Guslandi, British Fantasy Society