The Resurrectionist: The Lost Work of Dr. Spencer Black (Hardcover)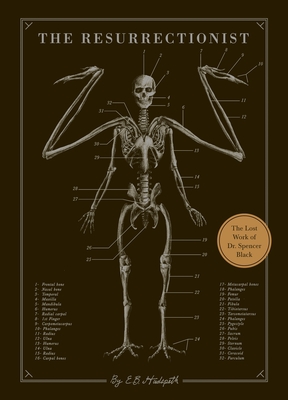 $24.99

In Our Warehouse - Expected arrival in 2-5 days
Description
---
"Disturbingly lovely . . . The Resurrectionist is itself a cabinet of curiosities, stitching history and mythology and sideshow into an altogether different creature. Deliciously macabre and beautifully grotesque."—Erin Morgenstern, author of The Night Circus

This macabre tale—part dark fantasy, part Gray's Anatomy—tells the chilling story of a man driven mad by his search for the truth, with hypnotic and horrifying images.

Philadelphia, the late 1870s. A city of gas lamps, cobblestone streets, and horse-drawn carriages—and home to the controversial surgeon Dr. Spencer Black. The son of a grave robber, young Dr. Black studies at Philadelphia's esteemed Academy of Medicine, where he develops an unconventional hypothesis: that the mythological beasts of legend and lore—including mermaids, minotaurs, and satyrs—were in fact humanity's evolutionary ancestors. And beyond that, he wonders: what if there was a way for humanity to reach the fuller potential these ancestors implied?

The Resurrectionist offers two extraordinary books in one. The first part is a fictional biography of Dr. Spencer Black, from his childhood spent exhuming corpses through his medical training, his travels with carnivals, his cruel and crazed experiments, and, finally, his mysterious disappearance. The second part is Black's magnum opus: The Codex Extinct Animalia, a Gray's Anatomy for mythological beasts, all rendered in meticulously detailed anatomical illustrations.
About the Author
---
E. B. Hudspeth is an artist and author living in New Jersey. This is his first book.
Praise For…
---
Named as Part of Bustle's Scariest Book in Your State for Pennsylvania.

"Disturbingly lovely . . . The Resurrectionist is itself a cabinet of curiosities, stitching history and mythology and sideshow into an altogether different creature. Deliciously macabre and beautifully grotesque."—Erin Morgenstern, author of The Night Circus

"Color us captivated. This collection seems a treat for anatomy enthusiasts and creaturephiles alike."—io9

"E.B. Hudspeth's The Resurrectionist is PFA (that's pretty freaking amazing)."—ComicsBeat.com
 
"These detailed and fantastical drawings will intrigue any reader curious about the hypothetical anatomy of mythical creatures such as mermaids, minotaurs, and harpies. In the context of the story that precedes them, they prompt disquieting thoughts about the extreme lengths to which the fictional Dr. Black may have been willing to go to prove his assumptions, and what—or who—may have served as his models."—ForeWord Reviews
 
"A bit of Charles Darwin and a bit of P.T. Barnum."—Inked Magazine

"Doctors Moreau and Frankenstein should make room for a new member of their league of extraordinarily grotesque gentlemen, for there is a new mad scientist in pop culture."—Aaron Sagers, MTV Geek

"The vivid imagery unveiled becomes the dark fantasy response to Gray's Anatomy."—Filter Magazine

"The book is a welcome addition to any library of dark fantasy, with its beautiful portraiture and gripping description of a man's descent into perversity."—Publishers Weekly, "Pick of the Week"

"A masterful mash-up of Edgar Allan Poe and Jorge Luis Borges, with the added allure of gorgeous, demonically detailed drawings.  I've never seen anything quite like The Resurrectionist, and I doubt that I will ever forget it."—Chase Novak, author of Breed

"Fans of Neil Gaiman, Hieronymus Bosch, and the Mütter Museum are sure to love [The Resurrectionist: The Lost Work of Dr. Spencer Black] and the rest will certainly be both astounded and intrigued by what you find inside!"—The Garden Island