The Eye of the World: Book One of 'The Wheel of Time' (Compact Disc)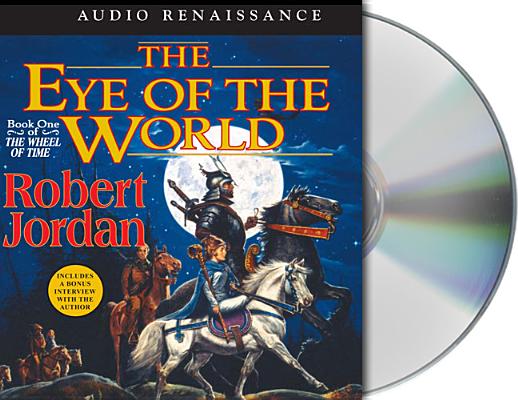 $59.95
Email or call for price.
Description
---
The Wheel of Time turns and Ages come and go, leaving memories that become legend. Legend fades to myth, and even myth is long forgotten when the Age that gave it birth returns again. In the Third Age, and Age of Prophecy, the World and Time themselves hang in the balance. What was, what will be, and what is, may yet fall under the Shadow.
About the Author
---
Robert Jordan was born in 1948 in Charleston, South Carolina. He taught himself to read when he was four with the incidental aid of a twelve-years-older brother, and was tackling Mark Twain and Jules Verne by five. He is a graduate of The Citadel, the Military College of South Carolina, with a degree in physics. He served two tours in Vietnam with the U.S. Army; among his decorations are the Distinguished Flying Cross with bronze oak leaf cluster, the Bronze Star with "V" and bronze oak leaf cluster, and two Vietnamese Gallantry Crosses with palm. A history buff, he has also written dance and theater criticism and enjoyed the outdoor sports of hunting, fishing, and sailing, and the indoor sports of poker, chess, pool, and pipe collecting.Robert Jordan began writing in 1977 and went on to write The Wheel of Time(R), one of the most important and best selling series in the history of fantasy publishing with over 14 million copies sold in North America, and countless more sold abroad.Robert Jordan died on September 16, 2007, after a courageous battle with the rare blood disease amyloidosis.Kate Reading is the recipient of multiple AudioFile Earphones Awards and has been named by AudioFilemagazine as a "Voice of the Century," as well as the Best Voice in Science Fiction & Fantasy in 2008 and 2009. Her audiobook credits include reading for such authors as Jane Austen, Robert Jordan, Edith Wharton, and Sophie Kinsella. She has performed at numerous theaters in Washington D.C. and received a Helen Hayes Award for her performance in Aunt Dan and Lemon.Michael Kramer has narrated over 100 audiobooks for many bestselling authors. He read all of Robert Jordan's epic Wheel of Time fantasy-adventure series as well as Brandon Sanderson's The Stormlight Archiveseries. He received AudioFile magazine's Earphones Award for the Kent Family series by John Jakes and for Alan Fulsom's The Day After Tomorrow. Known for his "spot-on character portraits and accents, and his resonant, well-tempered voice" (AudioFile), his work includes recording books for the Library of Congress's Talking Books program for the blind and physically handicapped.
Praise For…
---
"Jordan has come to dominate the world Tolkien began to reveal....The battle scenes have the breathless urgency of firsthand experience....The evil laced into the forces of good, the dangers latent in any promised salvation, the sense of unavoidable onslaught of unpredictable events bear the marks of American national experience during the last three decades."—The New York Times

"Adventure and mystery and dark things that move in the night—a combination of Robin Hood and Stephen King that is hard to resist. Furthermore, Jordan makes the reader put down the book regretting the wait for the next title in
the series."—Milwaukee Journal Sentinel

"The Wheel of Time is a fantasy tale seldom equaled and still less often surpassed in English." —Chicago Sun-Times

"Read by Kate Reading and Michael Kramer, who breathe life into this epic tale." —Patriot News "Michael Kramer sets this first book of a classic series on strong ground, with Kate Reading contributing to the narration. The characters spring to life as they face the challenges and torments that the wheel of life has drawn them into. These veteran narrators keep the plot moving and the narration fresh." —AudioFile