Spotted in France (Paperback)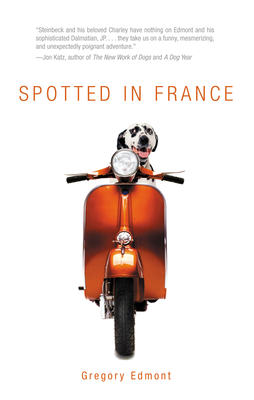 $14.95
Email or call for price.
Description
---
Gregory Edmont is just another American sojourning in Paris until he adopts a Dalmatian named J.P., and suddenly his life is charmed. The adventure begins with a near-arrest, as the French authorities question the legality of a two-wheeling Dalmatian. They escape, but the roller coaster of a journey continues. Spotted in France forces the reader to consider the role fate plays in our lives, with its surprises and unexpected twists and turns.
About the Author
---
Gregory Edmont writes for film and television. He divides his time among New York, London, and France.
Praise For…
---
"John Steinbeck and his beloved Charley have nothing on Gregory Edmont and his sophisticated Dalmation, J.P. . . . they take us on a funny, mesmerizing, and unexpectedly poignant adventure."--Jon Katz, author of The New Work of Dogs and A Dog Year

"Wonderful and quite funny..."--Chicago Tribune

"An entertaining and fast-paced tale of adventure..."--Dog Fancy (starred review)

"The numerous endearing and eccentric characters will have the reader in sticthes...magical."--Library Journal


"John Steinbeck and his beloved Charley have nothing on Gregory Edmont and his sophisticated Dalmation JP. Traveling together on a motor scooter from Paris through the French countryside, they take us on a funny, mesmerizing and unexpectedly poignant adventure."
--Jon Katz, author of The New Work of Dogs

". . . the book is humorous and fast paced . . ."--BARK magazine