Arthur (Hardcover)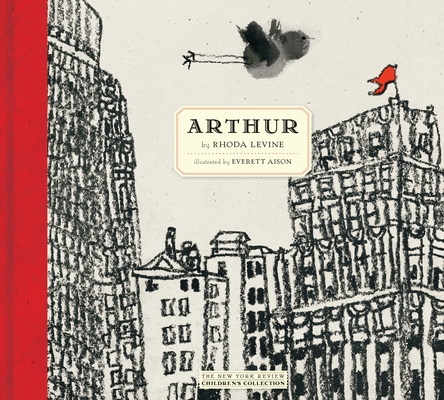 Email or call for price.
Not Available at This Time
Description
---
A wonderful holiday story about a small bird named Arthur, who lives in New York City.
After a fine, green summer in Central Park, all the birds are preparing to fly south. Except for Arthur, that is. Arthur is off playing, gazing into a lake, dreaming of wider seas. And so Arthur is left behind. It begins to get cold. The trees are losing their leaves. Arthur feels uneasy and lonely, especially after his nest is scattered to the winds. Arthur must find a new home, and after he does—he settles down in a statue's open book—he discovers a new city, where he can play hide-and-seek in the steam from a manhole cover and feast with the pigeons on crumbs, and which soon brings other delightful surprises (and challenges): icicles, a great big sweet-smelling evergreen tree that is all lit up with people gathered around it to sing "Gloria" in the cold night, and snow—a whole winter wonderland! And then the trees begin to bud; the birds come back....

With Arthur as their guide through the city, children will find new poetry and beauty on every corner.
About the Author
---
Rhoda Levine is the author of seven children's books and is an accomplished director and choreographer. In addition to working for major opera houses in the United States and Europe, she has choreographed shows on and off Broadway, and in London's West End. Among the world premieres she has directed are  by Viktor Ullmann and X— and , both by Anthony Davis. In Cape Town she directed the South African premiere of  in 1996, and she premiered the New York City Opera productions of Janácek's , Zimmermann's , and Adamo's. The New York Review Children's Collection publishes her books Three Ladies Beside the Sea and He Was There from the Day We Moved In, both illustrated by Edward Gorey.

Levine has taught acting and improvisation at the Yale School of Drama, the Curtis Institute of Music, and Northwestern University, and is currently on the faculty of the Manhattan School of Music and the Mannes College of Music. She lives in New York, where she is the artistic director of the city's only improvisational opera company, Play It by Ear.

Everett Aison is a co-founder of the School of Visual Arts Film School in New York and the former art director of Grossman Publishers. He has written several produced screenplays and designed the opening titles for numerous films, including Akira Kurosawa's Yojimbo and Roman Polanski's Knife in the Water. In addition to Arthur he has illustrated the children's book The American Movie and in 2006 published his first novel, Artrage. 
Praise For…
---
"This gem of a Manhattan tale from the early 1960s should be better known, especially given Aison's astounding charcoal and watercolor art, so simple and bold in black, smudgy gray and a perfect dark green." —The New York Times Book Review
 
"New York Review Books is one of the few publishing houses out there specializing in reprinting books for children published long ago. …we're seeing gorgeous reproductions of books like……the remarkable New York City-inspired Arthur." —Elizabeth Bird, Fuse 8, School Library Journal

"If I could have only one of these books for myself this is one I would pick...One of the best children's books ever – that's why it is called a 'classic', which means it's special." —Eileen Battersby, "My favourite children's books of 2015", Irish Times

Praise for Rhoda Levine's Three Ladies Beside the Sea: 

"Ms. Levine's wry imagination and Mr. Gorey's powerfully epicene drawings (figure that one out) constitute a whole new country for a child to visit or for a lucky grandfather to act as tour guide. ...This is, of course, a must for the many Edward Gorey fans of all ages, and a chance to discover the fine poetry of Rhoda Levine. I read this one to my five year old grand-daughter because it is just long enough to be engaging and just short enough to be wiggle proof, and just wise enough to set a young imagination free as a bird." --Sherman Yellen, The Huffington Post 

Praise for Rhoda Levine's He Was There From the Day We Moved In: 

"Gentle color washes over Edward Gorey's illustrations of spindly boys and shaggy dog and skies. They set just the right note for this story that achieves a sensitive equilibrium of pathos and humor, a total effect that is sentimental without apology and optimistic without reason." --The New York Times