Supposing (Hardcover)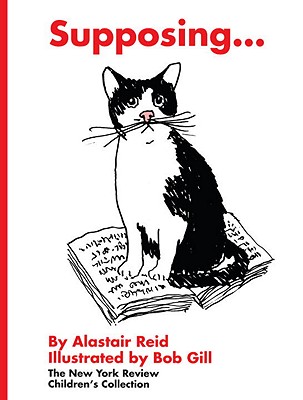 Email or call for price.
Not Available at This Time
Description
---
When you're a kid, there are lots of things you're not supposed to do. But what if you didn't really do any of those things, what if you just imagined them? Then it wouldn't matter if your supposings were silly, impossible, or even a little naughty—because they're all just in your head. Alastair Reid's book is a monument to the liberating power of unfettered thought. Here he reunites with a frequent collaborator, the famed illustrator and designer Bob Gill, to muse on the possibilities:

Supposing I read a book about how to change into animals and said a spell and changed myself into a cat and when I climbed on the book to change myself back I found I couldn't read. . .

Supposing I had a twin brother but we never told anyone and only went to school half the time each. . .

Supposing a very beautiful lady fell in love with me and wanted me to marry her but I just yawned and said Maybe . . .
About the Author
---
Alastair Reid is a poet, translator, essayist, and scholar of Latin American literature. He joined the staff of The New Yorker in 1959 and has translated works by Pablo Neruda and Jorge Luis Borges. Among his many books for children are A Balloon for a Blunderbuss, I Keep Changing, Millionaires, Supposing, and Ounce Dice Trice (published by the New York Review Children's Collection). In 2008 he published two career-spanning collections of work, Inside Out: Selected Poetry and Translations and Outside In: Selected Prose. He lives in New York.

Bob Gill is an illustrator and graphic designer. He has won numerous awards for his graphic design work; sold illustrations to Esquire, Architectural Forum, Fortune, Seventeen, and The Nation magazines; illustrated children's books; and designed film titles. He lives in New York.
Praise For…
---
"Alastair Reid is a word magician." –Bill Buford

"A 1960 text from Reid is paired to all-new illustrations from Gill that realize one child's beguiling hypotheses....And so it goes, supposition after childlike supposition, against scribbly, mostly black-and-white drawings with just a few strategic touches of color....As fascination with cause and effect is a classic phase of childhood, this book would seem to have a natural place in both bedrooms and classrooms..."--Kirkus Reviews

"There's an understated but fitting whimsy in Gill's artwork." --Publishers Weekly