The UFO Hotspot Compendium: All the Places to Visit Before You Die or Are Abducted (MUFON) (Paperback)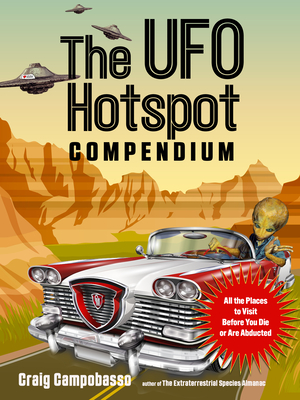 $18.95

In Our Warehouse - Expected arrival in 2-5 days
Description
---
The definitive UFO hunter's bucket list of legendary and active UFO and alien hotspots in North America
 
The UFO Hotspot Compendium will take you on your own behind-the-scenes trip to some of the most visited UFO hotspots—areas where aliens and cryptids are spotted, forbidden scary locations, as well as terrifying places only the brave dare to visit.

Based on first-hand information gleaned from MUFON's trained investigators and researchers, interviews with people who have had extraordinary UFO experiences, and the author's travel to many of the locations, this book is a guided tour of thirty-five of the most remarkable UFO-related sites: the when, where, backstory, investigations, and things to do when visiting the site. Included are MUFON's top twenty-five places known for the most UFO sightings, legendary spots known for UFO activity, alien kitsch sites, locations that have the added benefit of sacred retreats, and places you might not want to visit but should know about.

From the Skinwalker Ranch to Area 51 to Joshua Tree, The UFO Hotspot Compendium will be a hit with true believers, the mildly curious, and those intrigued by all things off-planet.  Experience the wonder and terror of alien abduction, a spaceship crash, or a UFO sighting from the safety of your own home.
 
About the Author
---
Craig Campobasso is an award-winning filmmaker and Emmy-nominated casting director with a career that spans three decades. Craig has appeared on many radio shows, including Coast to Coast AM with George Noory, Open Minds with Regina Meredith, and Beyond Belief. He has also appeared on the History channel's Ancient Aliens. Craig is the author of the bestselling The Extraterrestrial Species Almanac.