Voices for Freedom (American Adventures) (Paperback)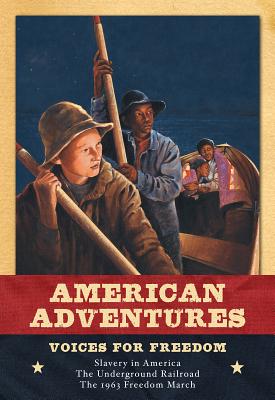 $6.99
Email or call for price.
Description
---
Voices for Freedom contains three stories focusing on the Underground Railroad and the 1963 Freedom March on Washington. Stories are Friend on Freedom River, Riding to Washington, and The Listeners.In Friend on Freedom River, written by Gloria Whelan, runaway slaves ask Louis to ferry them across the Detroit River to freedom in Canada. He's not sure what to do. If they are caught, it means prison for Louis. Written by Gwenyth Swain, Riding to Washington tells of one girl's journey to attend the 1963 "Great March on Washington." Janie and her father ride a bus to Washington, D.C. to hear a man named Dr. Martin Luther King Jr. speak. During the trip, Janie sees firsthand the injustices that many others endure. In The Listeners, another offering from Gloria Whelan, each night Ella May and her friends secretly listen outside the windows of their master's house. They listen to learn their fates and those of the other slaves.