God Is Great (5 Minute Sunday School Activities) (Paperback)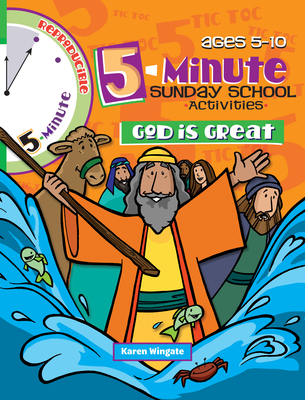 $14.99
Email or call for price.
Description
---
Easily use 5-Minute Bible Activities any time-- Whether before, during, or after your Bible lesson Engage kids with quick and easy-to-use Sunday School activities accompanied by valuable reproducible lessons to strengthen their relationship with God Features over 40 quick-prep Bible lessons, activities and unique crafts perfect for ages 5-10. Fully-reproducible. 96 pages.
Enjoy having over dozens of Bible activities on the awesome power of faith at your fingertips Packed with great Bible crafts and Sunday School activities, this full-reproducible Bible activity book has everything you need to engage your students in meaningful ways that will strengthen their faith in God--and each Bible activity takes less than 5 minutes Each Bible craft and activity includes a Bible lesson, step-by-step instructions, and reproducible patterns. Use for Kids Sunday school, VBS, homeschool or anytime you want to make a valuable impression on your kids. Get all 7 books in this incredible series Click here to see a Preview of 5-Minute Sunday School Activities: God is Great
Help your kids understand the awesome role God plays in their lives every single day with fun games, crafts, and activities 5-Minute Sunday School Activities: God is Great will excite your students about God as King, Judge, and Savior in their lives. Includes memory verses and age-appropriate crafts to illustrate important Bible lessons and help students apply these values to their everyday lives.
Each Bible Activity Includes:
WHAT YOU NEED: (A material list of everyday supplies)
BEFORE CLASS: Helpful ideas for pre-craft preparation
WHAT TO DO: A step-by-step guide to complete the Bible craft
WHAT TO SAY: Teaching and talking points to help kids relate to the Bible lesson
Note: Comes with a Bible lesson, memory verse, and discussion question for each craft.
Whether you use them for Sunday School, kids church or in your home, easily share Scripture and stories from the Bible that will make a permanent impression on your students.
7 Key Features of the 5-Minute Bible Activities Series from Rainbow Publishers 1. Age-Appropriate Bible Activities
Super-easy crafts and activities to engage your students in important Bible lessons. Includes fun, kid-friendly discussion questions to get even the toughest kids thinking
2. Packed with More than 40 Sunday School Activities and Bible Lessons
More than 40 lessons, crafts, and activities that teach meaningful Bible stories in just five minutes
Each of these Bible activities can be squeezed into any short window of time--Before your Sunday school lesson. In the last five minutes of class. During the snack break. As filler when the adult service is running late. And more
3. Flexible and Fully-Customizable Sunday School Lessons (Includes "Extra Time" Suggestions)
Extra Time suggestions are given for each activity, including engaging questions for group sharing, journaling ideas, and exciting games. Easily use these suggestion sections to turn each Bible activity into a complete lesson.
4. Easy-to-Use Format
Step-by-step instructions and clear sections on What you Need, Before Class, and What to Do makes lessons easy-to-do
5. Cut Down Prep-Time to Minutes
Enjoy prepping interactive Bible activities and crafts in a snap Each action-packed Bible activity is perforated and fully-reproducible, making prep time as painless as the push of a button on your copier
6. Quick and Easy Kids Craft Ideas
Filled with simple instructions that can be explained in seconds so you can devote more time to teaching Bible stories. Loaded with original activities, unique crafts, and reflection exercises that kids can tackle on their own.
7. Budget-Friendly Sunday School Crafts
Stocked with perforated, reproducible, and ready-made handouts. Templates for arts and crafts with household materials that are easy on the wallet
Preview.