Global Baby Bedtimes (Global Babies #5) (Board book)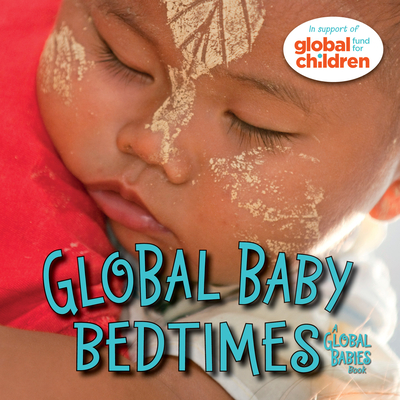 Other Books in Series
This is book number 5 in the Global Babies series.
Description
---
Babies get ready for bed differently around the world, but they are all cuddled, snuggled, and loved! Part of the best-selling Global Babies series.

Good night, global babies! Babies love to look at babies and this bright collection of photos is a ticket to an around-the-world journey. From Panama to Peru, Vietnam to Argentina, each of the sixteen colorful photos in Global Baby Bedtimes is a glimpse into a new country and culture. Celebrate (quietly!) different bedtime routines and introduce babies and toddlers to their global neighbors as they all get ready to say "goodnight."

A perfect baby shower gift or first book for the toddler in your life. Part of the proceeds from this book's sales will be donated to the Global Fund for Children to support innovative community-based organizations that serve the world's most vulnerable children and youth.
About the Author
---
The Global Fund for Children develops innovative titles that help young readers expand their appreciation of the multicultural world in which they live. Each book depicts positive images of children, promotes multiculturalism, and integrates the children's perspective into the text.

A portion of the proceeds from the sale of these books helps support The Global Fund for Children's grantmaking toward community-based projects benefiting children around the world.
Praise For…
---
*The universality of the most basic human need—sleep—is touchingly illustrated with ahh-inspiring photos.
Each page shows a sleeping infant embraced protectively by a loving parent, nestled in a crib, or held close in a fabric carrier. The country of origin is noted in text curved around each sleeping child's head. Love and care are constant across cultures. The photo from Guatemala, of a little girl asleep amid bananas in a market, mildly hints at the poverty of the region, but even in this instance the baby looks clean, content, and cared for. Several of the children are dressed in colorful, culturally specific clothing—the Chinese baby wears a Mongolian-style hat, blue batik wraps the baby from Panama, and the infant from the Ivory Coast is wrapped in orange, red, and black fabric. Still, the differences are subtle. In reality, these babies could be seen in any American city. Readers are left with the impression that all these babies are part of one human family, although, appropriately, this is never stated directly. The one simple sentence of text starts out, "Babies everywhere / go to sleep," and ends with the worldwide wish, "Sweet dreams!"

Sweet, tender, and positive; perfect for sharing with the newest world citizens.
-Kirkus Reviews, starred review


As any parent can attest, infants are fascinated by certain kinds of objects and patterns—but nothing holds their gaze as much as the human face. In a series of lovingly photographed images, babies from around the world are shown, napping, yawning, and deeply slumbering. Sing a soft lullaby while turning these pages to encourage sweet dreams.
-School Library Journal


The fifth board book in the irresistible Global Babies series features exceptionally clear, colorful photos of infants who are yawning, nodding off, or sound asleep. A single line of text threads its way through the book, drawing the pictures together and providing a sense of continuity. For curious adults and older children, the baby's country is identified on each page. Occasionally a parent, caregiver, or sibling appears in the frame, but the baby is always at the center of things and often the face is shown in close-up. Captivating and soporific, this is a fine bedtime book for little ones and their sleep-deprived parents.
-Booklist