Clothesline Clues to Sports People Play (Paperback)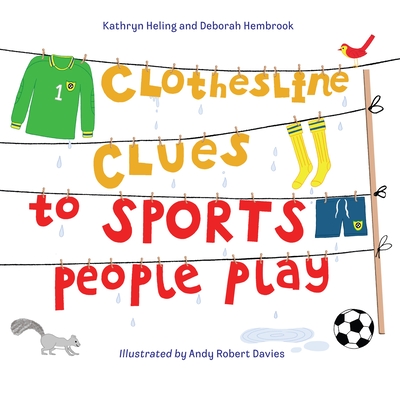 Email or call for price.
Not Available at This Time
Description
---
Get in the game and use clues on the clotheslines to identify a slew of sports.

Catchy rhymes and visual cues introduce young readers to sports in this companion to Clothesline Clues to Jobs People Do.

The clues in each lively verse can be spotted hanging from the clotheslines. What athlete wears those items? Turn the page to discover the sport at hand—and the athlete in full gear! From baseball and soccer, to fencing and archery, there's something for everyone—including a surprise ending. A perfect choice for reading aloud and encouraging kids to join in the guessing and reveal.

Andy Robert Davies's quirky illustrations build a separate story from the text. Close attention to the details will help young readers build their own storytelling skills and help them make visual connections.
About the Author
---
Kathryn Heling and Deborah Hembrook are the co-authors of several books for children, including I Wish I Had Glasses Like Rosa (Raven Tree Press, 2010); and Mouse Makes Words: A Phonics Reader (Random House, 2010). Kathryn and Deborah both live in Wisconsin.

Andy Robert Davies is a professional UK based Illustrator working for clients around the world. His artwork has been used in an editorial context by the Independent on Sunday and Guardian newspapers, in viral marketing campaigns for Vodafone, and for several successful book titles. His first children's book Truck Stuck has won a number of awards and plaudits from respected sources in the USA.
Praise For…
---
Moving from jobs (Clothesline Clue to Jobs People Do, 2012) to sports, Helig, Hembrook, and Davies keep children guessing.

"High on the clotheslines / the clues swing and sway. / Who uses these things / for the sports that they play?" Seven clotheslines hold clothing and sometimes equipment (not all of which is typically washed), with more underneath the line or propped against the uprights. Pinstriped pants and shirt, a cap, and a glove hang above a bat, bases, and a ball. Readers guess and then turn the page for the reveal: "He plays baseball." (Boston fans beware: the pinstripes are paired with red socks.) With a nod to diversity, the men fence and play baseball and football. Women play soccer, tennis, and basketball and do archery. An inquisitive (and sometimes mischievous) squirrel appears on every clothesline page, and the reveals always show a glimpse of the school bus from the title page. It all comes full circle at the end when the children try out these sports during Sports Day at school. The rhythms and rhymes are solid, and the verses nicely incorporate the vocabulary for the equipment and clothing used. Skin tones are a mix of peach and browns, but all the people are able-bodied. Too, the women tend to pair up with girls and the men with boys.

A nifty, participatory way to introduce sports to young children.
-Kirkus Reviews


In this companion volume to Clothesline Clues to Jobs People Do (2012), sports uniforms on a clothesline and related equipment on the ground offer clues that will enable children to guess which sport is represented each time. Below the clothesline, rhymed couplets comment on the scenes. A typical example reads, "Team shirt, goalie gloves. / A ball to kick away. / Long socks and shin guards. / What sport does she play?" A turn of the page reveals a broad scene showing soccer players in action. Since the best clues here are visual and they are clearly presented, even young children will guess most of the sports (baseball, soccer, tennis, fencing, basketball, football, and archery), and they will enjoy shouting out the answers. The text is short, and the digitally combined mixed-media artwork features clearly delineated shapes and bright colors that show up well against the clean white backgrounds. This upbeat volume will help fill the demand for fun, sports-themed picture books.
-Booklist Online
 

Much like this duo's popular Clothesline Clues for Jobs People Do (Charlesbridge, 2012), this title presents illustrations of clothing and accessories paired with rhyming text that allow readers to guess which sport will be revealed on the next page. Sports such fencing and archery are shown side by side with baseball, soccer, and football. Just as in Jobs, gender equality is the rule of the game, with equal numbers of men and women, boys and girls. Some examples lend themselves better to the clothesline treatment than others: a jersey, matching shorts, shoes, and a basketball are easy to guess. However, the tennis clothesline holds only a headband and shoes. Nevertheless, kids will love guessing the sports and finding the repeated images on each page. A school bus runs through each spread, and the final pages depict a party with adult athletes and kids playing together. Children are invited to picture themselves participating: "The clothes hold clues to sports people play./What sport would you like to try out today." VERDICT Sure to please in sports-themed storytimes, especially during the Olympics.
-School Library Journal