The Gifted Kids' Survival Guide: A Teen Handbook (Paperback)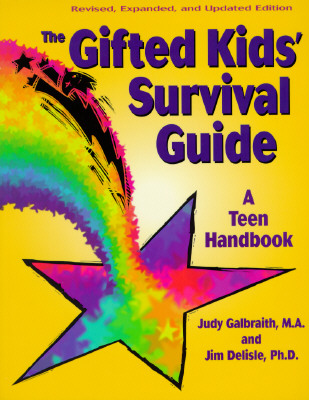 Email or call for price.
Not Available at This Time
Description
---
Written with help from hundreds of gifted teenagers, this handbook is the ultimate guide to surviving and thriving in a world that doesn't always value, support, or understand high ability.
Full of surprising facts, step-by-step strategies, practical how-tos, and inspiring quotations, featuring insightful essays contributed by gifted teens and adults, the book gives readers the tools they need to understand giftedness, accept it as an asset, and use it to make the most of who they are.
Teens learn the facts about giftedness, including:


what "giftedness" means (and doesn't mean)


the truth about IQ, tests, and testing (and four reasons why tests can't be trusted)


how to take charge of their lives (including expectations, perfectionism, multipotential, mistakes, goal setting, time management, assertiveness, gender issues, ethnic issues, and stress)


how to take charge of their education (knowing their rights as students, exploring their options, changing the system, choosing a college, and alternatives to college)


how to find friends who are right for them


how to talk to parents


how to be "net-smart" and have safe, fun online relationships


information about teen suicide—and how to intervene with a troubled friend


a wealth of additional resources including books, publications, associations, programs, and Web sites


and much more –


The Gifted Kids' Survival Guide: A Teen Handbook
is a must for gifted teens, their parents, teachers, counselors, and anyone who cares about smart, creative, curious kids.
About the Author
---
Judy Galbraith, M.A., has a master's degree in guidance and counseling of the gifted. She has worked with and taught gifted children and teens, their parents, and their teachers for over 20 years. In 1983, she started Free Spirit Publishing, which specializes in Self-Help for Kids® and Self-Help for Teens® books and other learning materials. James R. Delisle, Ph.D., has taught gifted children and those who work on their behalf for more than 30 years. He retired from Kent State University in 2008 after 25 years of service as a professor of special education. Throughout his career, James also worked as a part-time teacher of gifted middle school children. This weekly excursion into the real world of public school classrooms helped to cement both James' professional credibility and his respect for the hectic lives of classroom teachers. His work's practical application is a direct result of this weekly intervention into the world of schools. The author of more than 250 articles and 14 books, James' work has been translated into multiple languages, and has appeared in professional journals as well as The New York Times and on The Oprah Winfrey Show. A frequent presenter on gifted children's intellectual and emotional growth, Jim has addressed audiences in 48 states and numerous nations.
Praise For…
---
"A superior resource that provides so many fine ideas and fresh insights that it clearly has the potential to transform lives."—School Library Journal
"An amazing resource."—Voice of Youth Advocates
 "Helps adults become more respectful of the knowledge and abilities that young people have."—Youthworker
 "Filled with information that answers students' questions about being gifted and provides strategies for them to make their education and their lives more fulfilling."—California Association for the Gifted
Read, America! Selection