Night Watch (Audio Cassette)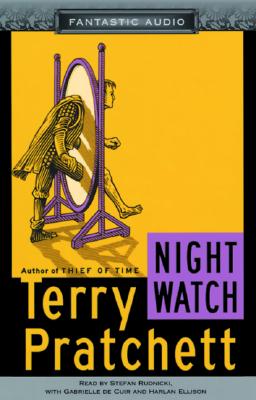 Email or call for price.
Not Available at This Time
Description
---
Night Watch is a new (and wild) adventure in the bestselling Discworld series, which has sold more than 21 million books worldwide. While fighting a ruthless murderer on the top of the library building of the Unseen University, Same Vimes, Commander of the City Watch, has been thrown back in time. At least he thinks he's gone back in time. He sees his younger self, but when he looks in the mirror, his old sergeant looks back. To top that off, the city is on the brink of a revolt, there's a curfew, the police are corrupt, the committee of Public Safety is incompetent, and he has to help man the barricades. Furthermore, the man whose body he has taken over died in the revolt that Vimes is now a part of.... Prachett's last two novels, The Fifth Elephant and Thief of Time, hit both the Los Angeles Times and the San Francisco Chronicle bestseller lists. Fantastic Audio's production of Thief of Time is a finalist for the conveted Audie Award for Excellence and Innovation in Production. Night Watch is produced by the same Fantastic Audio team.