Saving Emily (Paperback)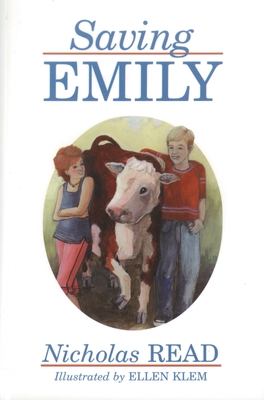 Email or call for price.
Not Available at This Time
Description
---
This unique, sensitively written novel for young readers about life on a modern farm skillfully interweaves two stories, one from the animal perspective of a cow named Emily and the other from the human viewpoint of a twelve-year-old boy named Chris. Author Nicholas Read eloquently describes how two very different lives encounter similar disruptions and are ultimately brought together in a life-and-death adventure.

Though Emily's early experiences on the farm are pleasant, she soon senses her mother's unmistakable signals that all is not well. Before long she must face the cruel realities of branding, a livestock market, confinement in a feedlot, and finally a frightening ride in a cattle truck. Chris, too, is dealing with the harsh reality of a broken home and being forced to move from the city to the country to start a new life when his mother decides to remarry. Compared to the busy city, Chris finds the country to be a lonely place, and he has trouble making friends until he meets Gina, a true free spirit with a love for animals. How Chris and Gina scheme to rescue Emily from a sad fate makes a fascinating and instructive tale.

Parents who care about animals will want their children to read this charming, engrossing story.
About the Author
---
Nicholas Read (Vancouver, BC, Canada) is a journalist, a former columnist on animal issues for the Vancouver Sun newspaper, and the author of another children's book, One in a Million.