Kids of Kabul (Hardcover)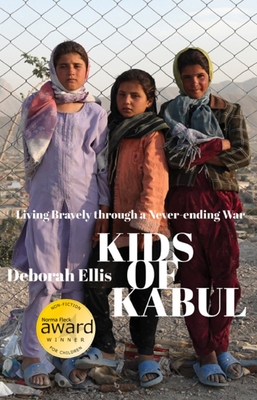 $15.95
Email or call for price.
Description
---
Since its publication in 2000, hundreds of thousands of children all over the world have read and loved The Breadwinner. By reading the story of eleven-year-old Parvana and her struggles living under the terror of the Taliban, young readers came to know the plight of children in Afghanistan. But what has happened to Afghanistan's children since the fall of the Taliban in 2001? In 2011, Deborah Ellis went to Kabul to find out. She interviewed children who spoke about their lives now. They are still living in a country torn apart by war. Violence and oppression still exist, particularly affecting the lives of girls, but the kids are weathering their lives with courage and optimism: I was incredibly impressed by the sense of urgency these kids have -- needing to get as much education and life experience and fun as they can, because they never know when the boom is going to be lowered on them again.
The two dozen or so children featured in the book range in age from ten to seventeen. Many are girls Deb met through projects funded by Canadian Women for Women in Afghanistan, the organization that is supported by royalties from The Breadwinner Trilogy. Parvana's Fund provides grants towards education projects for Afghan women and children, including schools, libraries and literacy programs. All royalties from the sale of Kids of Kabul will also go to Women for Women in Afghanistan. Aftermatter includes a map, glossary, a short history of Afghanistan and suggestions for further reading/resources.
About the Author
---
Deborah Ellis is the author of over eighteen books, many of them bestsellers worldwide. She lives in Simcoe, Ontario.
Praise For…
---
"This nuanced portrayal of adolescence in a struggling nation refrains, refreshingly, from wallowing in tragedy tourism and overwrought handwringing." Kirkus

"…sufficient historical context enriches the readers' understanding of the situation in Afghanistan."—CM Magazine

"It's a gritty, poignant, and intensely personal glimpse into the effects of war and poverty."—Publishers Weekly

"Sometimes when I'm playing football with my friends, a man will stop and watch us . . . and I think, 'Maybe that's my father.' I play extra well then, so that he'll take me away with him. Mustala, 13"
from the book
Coverage from NPR